The Russian Aerospace Forces received four new combat-training aircraft Yak-130, the BMPD blog reports citing spotters.
The aircraft built by the Irkutsk Aviation Plant (IAZ) of Irkut Corporation PJSC have red side numbers "05", "06", "07" and "08" (estimated serial numbers from 1404 to 1407) and were flown around Irkutsk in the summer and in the autumn of the 2017 of the year, however, the transfer of the Yak-130 aircraft of the Russian Aerospace System was not carried out since the end of July, and it was resumed only now. 2017 Day June 130 of the year.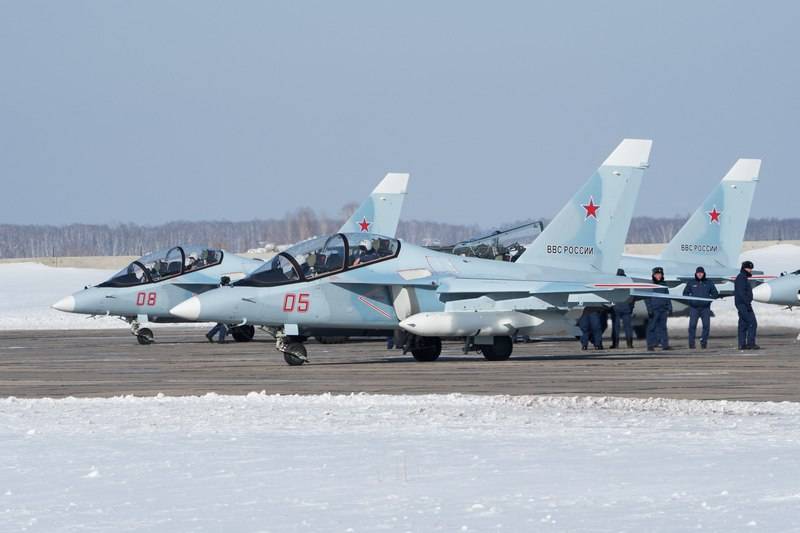 These four aircraft were built by IAZ under the contract for the supply of the Russian Aerospace Forces by the end of 2018 to 30 Yak-130 aircraft, concluded by the Russian Ministry of Defense in April 2016. The first ten Yak-130 aircraft under this contract were transferred to the Aerospace Forces in October-December 2016 and entered the 200th training
aviation
base in Armavir (Krasnodar Territory), providing training for the restored Krasnodar Higher Military Aviation Pilot School (KVVAUL) named after A.K. Serov. In May-July 2017, another six Yak-130 planes of the 2017 program were transferred to Armavir.
Although from June to November 2017, eight more Yak-130s for the Russian Aerospace Force were flown at IAP, however, not one of them was handed over and until recently, all these boards remained in Irkutsk. Now, the first four of these aircraft have been transferred to the VKS. In this case, as reported, 14 March 2018, the aircraft with the tail number "07 Red" was delayed in Novosibirsk, apparently due to a technical malfunction.
The aircraft, apparently, will be part of the same 200-th training aviation base in Armavir. With the transfer of the four Yak-130 aircraft to Russia, the total number of production vehicles of this type delivered to the Russian Ministry of Defense reached 99 units - of these, the first two series 12 were built at Sokol Aviation Plant Nizhniy Novgorod and 87 at Irkutsk aviation plant.