The Kalashnikov Concern took the initiative to amend the Russian law "On
Weapons
", Which are designed to streamline the" weapons "regulatory framework, to make it more logical and modern.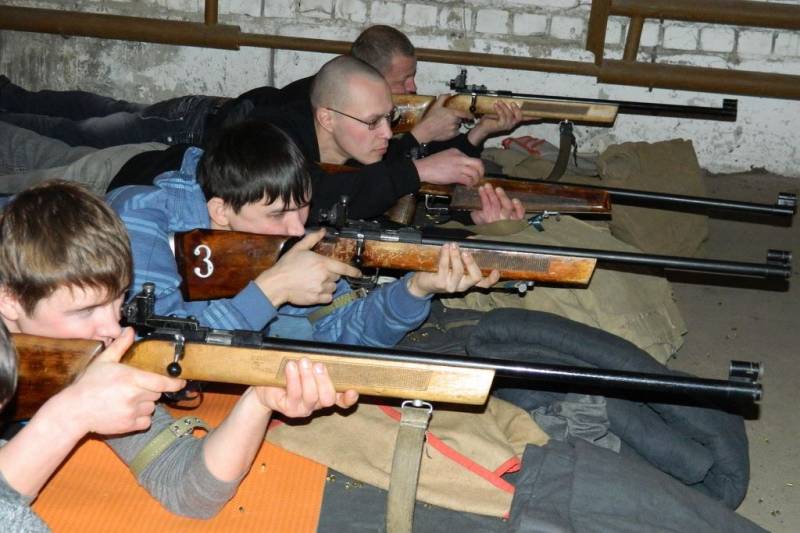 In addition, they are aimed at expanding the rights of arms owners, and, accordingly, expanding the civilian arms market.
One of the most interesting is the proposals to allow selling long-barreled rifled weapons of caliber .22 LR, in common parlance "melkashki", without a five-year experience of owning a smooth-bore weapon.
Recall that according to the current law, small-caliber rifles 22 LR belong to rifle weapons, the acquisition of which can be allowed only after five years of irreproachable (without any violations of the law and rules) possession of smooth-bore long-barreled hunting weapons.
This proposal of the Kalashnikov Concern looks quite logical and reasonable.
Recall that until the middle of the 60s of the last century, 22LR rifles were freely sold in sports stores, like sports equipment. Indeed, although the little one is an excellent tool for commercial and amateur hunting of fur-bearing animals, it is primarily a sporting weapon, ideal for competition, postrelushek, for shooting training and maintaining shooting skills. Minimal recoil makes this weapon ideal for classes with children and teenagers.
In other words, for many, if not for most 22LR users, this is exactly sports equipment. A purchased "for experience" double-barreled shotgun or "pump" will not really be used. In this sense, it is hardly correct to force people who need a little thing to acquire a much more formidable weapon — shotguns, which, strictly speaking, do not need anything, thereby increasing the number of weapons at the hands of citizens. And at the expense of trunks unnecessary for them!
To this we can add that smooth-bore hunting rifles, which are acquired immediately, without "test experience" are much more lethal weapons - wounds inflicted by shotgun or bullet shells of a shotgun 12, 16 or 20 caliber in most cases lead to death or severe disability. In terms of energy, the 22LR bullet is weaker than even one carcassin, of which there are several pieces in a smooth-bore cartridge.
Although technically small-caliber rifles are rifled, their effective range does not exceed the capabilities of the smoothbore.
In addition, the 22LR ring ignition cartridges, where the sleeve and the capsule are one, cannot be reassembled. In other words, the "little girl" is the most "safe" if this term is applicable to a weapon.
Note that in addition to the usual small-caliber "bolts" and "self-charging", small-caliber "clones" of AK are produced, which can be successfully used for primary rifle training.
This proposal, if accepted, will significantly expand the market for civilian weapons, by increasing the "target" sales of this, primarily sports weapons.
In total, the Kalashnikov Concern has proposed more than 15 amendments, a significant part of which are focused on sporting weapons and the use of civilian weapons in sports.
In particular, there is a proposal to add practical shooting to sports, the occupation of which is the basis for the purchase of rifles.
Other proposals include removing the restriction on the capacity of stores, reducing the length of service for possessing smooth-bore weapons before acquiring a rifled from five to three years, increasing the permitted number of weapons from long-barreled shotguns and rifled to 10 units instead of five, and even allocating five "places" for small-caliber weapons.
Note that all these amendments are in the interests of conscious and responsible owners - athletes, hunters and collectors who know why they need a weapon and know how to handle it.
All of them, of course, are aimed at expanding the "client base" of the Kalashnikov Concern and other manufacturers of civilian weapons. However, it would be wrong to see in this only the desire for profit. The fact is that, thanks to the proceeds from the sale of rifles and carbines, their manufacturers manage to retain personnel and the necessary production volumes in the absence of military or foreign orders, as well as to develop new models.
So, in the "holy nineties" Izhevsk and Vyatka-Polyansky plants survived, largely due to the production of civilian weapons.
It is not known which of the proposed amendments will be adopted, but the fact of the appearance in the country of a "gun lobby" capable of defending the interests of gunsmiths and owners of civilian weapons - athletes, hunters and collectors, can only be welcomed.