Honorary Director General, Honorary General Designer of the Reutov Open Society "Military Industrial Corporation NPO Mashinostroyenia" "Herbert Efremov celebrates today his 85 anniversary, reports
Interfax-AVN
.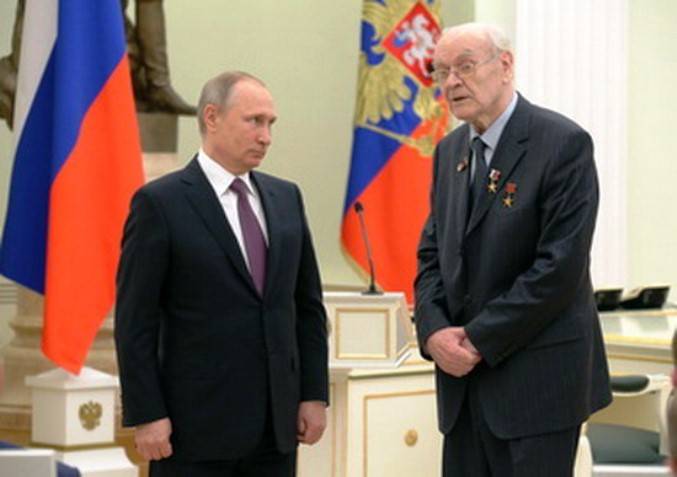 "The name of this man, who for a long time headed Chelomey's famous firm, is inextricably linked with Soviet and Russian space rocket programs, the development and creation of various types of cruise missiles, as well as the recently becoming hypersonic reality
weapons
", - says the publication.
On March 1, Vladimir Putin, among other projects of the newest Russian weapons, called the Avangard strategic hypersonic missile system, whose mass production has already begun.
This system differs from the existing types of combat equipment with the ability to fly in the dense layers of the atmosphere to the intercontinental range at a hypersonic speed exceeding the Mach number by more than 20 times,
told the president.
According to media reports, successful tests of this aircraft were carried out on 25 on October 2016 of the year when the RS-18 "Stilet" ICBM was launched from the position area of ​​the Dombarovsky missile compound.
In June, 2017, Efremov was awarded the title of Hero of Labor of the Russian Federation "for outstanding services in strengthening the country's defense." Thus, he became the owner of (the only) two titles at once - the Hero of Socialist Labor and the Hero of Labor of the Russian Federation.
Earlier, in an interview with Interfax-AVN, Efremov noted that "there are reports in the press related to the engineering engineering NGO and the work on hypersound".
I can't say anything else in this regard. But as a supervisor of many works, I want to say that hypersound is two "varieties." Hypersound motor and hypersound motorless,
he said.
According to him, "the hypersound motor begins somewhere with Mach 4,5."
Before 4,5, Mach is supersonic. And from 4,5 Mach begins the hypersound. Motor hypersound in the range from 4, and even from 3 or Mach 3,5, has not yet been implemented in the world. Many are now working on this, both here and abroad,
explained the designer.
A completely different direction - motorless hypersound. They are also all engaged. This is a special area that is not related to the difficulties of a motor hypersound,
He stressed.
As the general director of the military-industrial complex NPO Mashinostroeniya JSC (part of the Tactical Missile Armament Corporation) Alexander Leonov said at the beginning of 2018, "a great deal of work on creating advanced rocket and space technology was done by the company in all three traditional thematic areas: it's the creation missile systems with anti-ship cruise missiles, complexes with ICBMs, space systems for various purposes. "
In all these areas, we are creating completely new complexes and systems that will ensure the defense capability of our country in the near future,
stated Leonov.