From the factory airfield of PJSC Taganrog
aviation
scientific and technical complex named after G.M. Berieva "(TANTK, included KLA) the next serial Be-200ES amphibious aircraft took off, reports
bmpd
.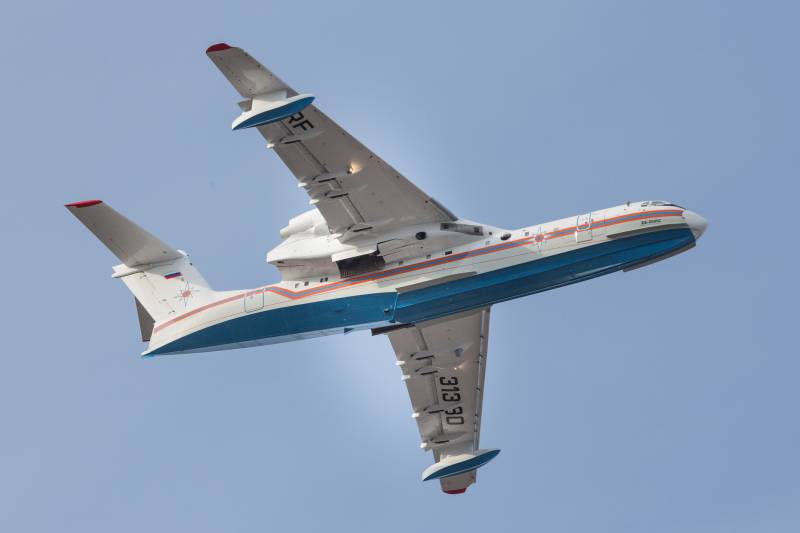 The fourth serial amphibious aircraft Be-200ES (serial number 03-06, registration number RF-31380) produced by PJSC Taganrog Aviation Scientific-Technical Complex named after GM. Beriev "under contract 2011 of the year with the Russian Emergencies Ministry, in the first flight. Taganrog, 12.03.2018
This is the fourth aircraft built for the Emergencies Ministry under the contract of 25 May 2011.
It is reported that "after passing the bearer and acceptance testing program, by the end of this year, the aircraft will be handed over to the customer for operation at the Khabarovsk Integrated Aviation Rescue Center of the Russian Emergencies Ministry".
Reference bmpd: "In May, the TANTK 2013 also signed a contract with the Ministry of Defense for the supply of Naval Aviation of two Be-200 ЧЧ aircraft and four modified Be-200ПС planes (without fire extinguishing function) with a total value of 8,4 billion rubles. Delivery was to be made in 2014-2016, but the construction of these aircraft was delayed. In fact, it has not progressed beyond the initial stage. In 2017, the military department terminated this agreement. "