One of the Russian airlines decided to name a passenger plane in honor of the pilot Roman Filipov who died in Syria. We are talking about the board of the RA-89073. This is the aircraft "Dry Superjet 100" airline "Yamal". The name of the heroic pilot, born in Voronezh, appeared on the fuselage of the aircraft.
Photo of airliner "Roman Filipov" published
press service
Yamal Airlines.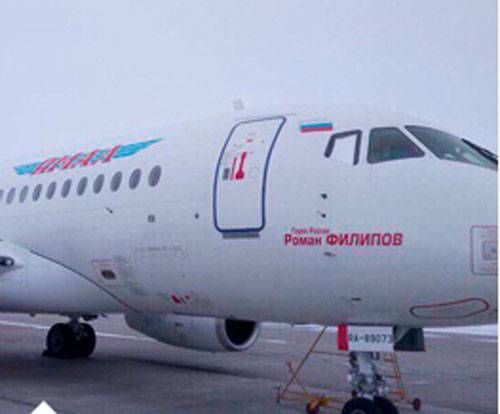 Major Roman Filipov died heroically in Syria - on the territory of the province of Idlib 3 February.
The pilot, who was forced to eject after the militants struck his Su-25 attack aircraft, engaged in battle with the terrorists on the ground.
When they came close to Roman Filipov and tried to surround him, take him prisoner, he blew up a grenade with an exclamation "This is for you boys!"
Hero of Russia Roman Filipov was buried in his homeland - in Voronezh. At the farewell ceremony with the Hero of the Russian Federation, thousands of citizens and residents of other regions gathered to the capital of the Black Soil Region to pay tribute to the memory of the deceased officer.
The school in Voronezh, in which he studied at the time, was named after Roman.