Two US Air Force aircraft, as well as British aircraft and NATO commanders, flew for many hours at the borders of the Russian Federation in the Baltic region, off the coast of the Black Sea, and also near Russian areas in the Donbas, reports
Interfax
with reference to foreign resources tracking military flights
aviation
.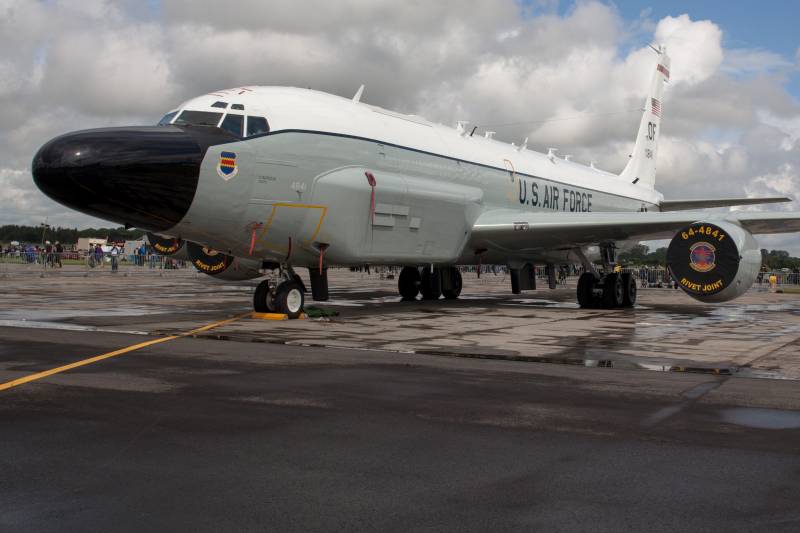 According to resources, "a strategic reconnaissance aircraft of the US Air Force RC-135W with a tail number 62-4134 and the call sign LIMB59, departing from Mildenhall airbase in the UK, flew over the southern border of the Kaliningrad region in the sky over Poland, and then, flying to Estonia, cruised along the western regions of the Leningrad and Pskov regions ".
After him, "NATO E-3A Sentry AWACS NATO aircraft with a flight number LX-N90458 and the callsign NATO06, which rose from the Alliance air base in Heilenkirchen in Germany," appeared in Estonian airspace in Estonia. The aircraft cruised north of the Estonian city of Tartu and west of the Russian border.
The reconnaissance to the south of the Kaliningrad region, carrying out a circular flight in the sky over northeastern Poland, was conducted by an E-3A Sentry AWACS long-range radar detection and command aircraft with a tail number ZH106 and NATO31.
In addition, "US Air Force strategic drone RQ-4B Global Hawk with tail number 05-2024, departing from Sigonella airbase on the Italian island of Sicily, on Tuesday afternoon around 14: 00 Moscow time flew to the Russian coast on the Black Sea," the message reads .
According to the information, "within a few hours, he made at least six flights from west to east along a line from the westernmost tip of Crimea along its south-western and southern coast, as well as the coast of the Krasnodar Territory all the way to Sochi."
Earlier on Tuesday, the same UAV conducted another reconnaissance in the Donbass, during which it flew several times to a distance of about 40 km to the Belgorod, Voronezh and Rostov regions of the Russian Federation bordering the Lugansk region of Ukraine.