Pro-Turkish formations captured several settlements in the north of Aleppo from the SDF, 4 people were killed and 26 were injured in the shelling of Damascus by militants. Reports about it
FAN
with reference to Syrian sources.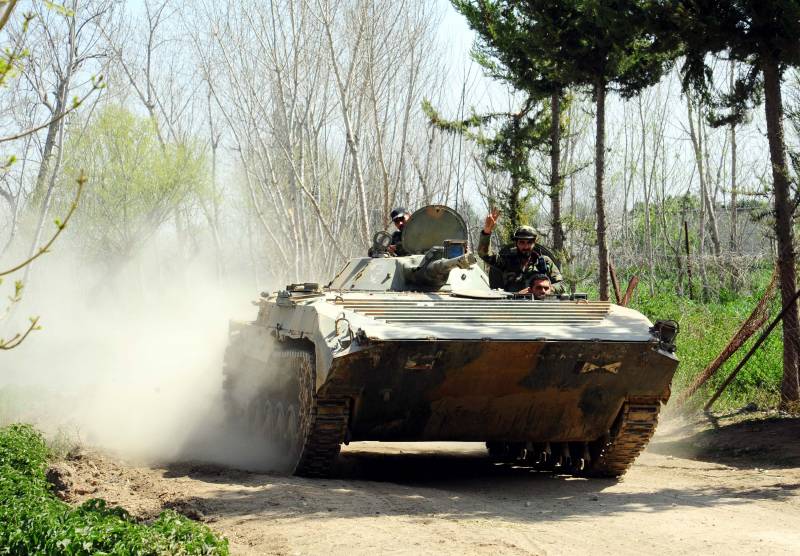 Early in the day, militants of the armed opposition fired on a residential area of ​​Damascus, killing four civilians, and injuring 26 people. In Eastern Gute, the confrontation between the government forces of the SAR and illegal armed groups continued. The Syrian army shelled militant positions in the vicinity of Jisrina, and later freed 10 from the residential areas of the city from the XNUMX radicals. Fighting between the CAA and illegal armed groups continued in Harast.
The Syrian Free Army (SSA) seized from the Syrian Democratic Forces (SDF) a number of territories in the north of the province of Aleppo. The pro-Turkish group knocked out Kurdish militia fighters from the settlement of Al-Ghazaviya, located east of Jandaris, as well as from the Kafr Dali Tahtani settlements, Darmashkanly and Magar Dzhukk. Later it became known that the Turkish Air Force attacked the central part of Afrin. Currently, the Turkish military declare the liquidation of the "democratic army" fighters since the start of Operation 3393.
The Russian Space Forces together with the Syrian Air Force attacked the Dzhebhat an-Nusra terrorists (banned in the Russian Federation) near the Az-Zein village in the west of Idlib province. In the administrative center of the province, an improvised explosive device was detonated, several civilians were injured.
The Russian Aerospace Forces, together with the Syrian Air Force, continued to strike at Al-Nusra's positions in the north of the Hama province.
Aviation
Allies attacked the locations of radical Islamists in the vicinity of Kafr Zeta and Al-Latamina. Under the cover of military aircraft, the Syrian army conducted shelling of terrorist strongholds. Skirmishes between the SAA and the An-Nusra radicals were also noted in the south of the province.