These Russians interfere in our choices! These Russians for one and a half ruble lobbied the right candidate on Twitter and Facebook! These Russians use an army of hackers and prankers to interfere in any of our internal affairs!
You have listened to a brief review of the American press over the past 1,5 of the year.
The rhetoric of a state that intervened in the internal affairs of dozens of states of the world, many of which managed to lose their statehood precisely after the intervention, from the series "and why should we?"
The leadership of American intelligence openly declares on the air that, they say, yes ... we interfere, but we can ... we sow democracy. "We can, but others can not." And then others intervened ...
And the people ask more questions: if the US spends more than a trillion dollars from the budget annually on the army and the maintenance of special services, then where do these funds go? Where does the trillion go if some pranker can ridicule the entire American political system in talking with Mrs. Congressman about "supporting democracy in Limpopo".
That's why they got mad. For its own people are asking reasonable questions, but they cannot get a normal answer. So, you need to somehow "dear partners" to let off steam. Prove that their "interventional apparatus" is longer and more powerful - they say, it's not for nothing that you pay taxes on the contents of this entire colossus.
In general, the case for the presidential elections in Russia. And it has already begun ... They understand that they will not be able to influence the outcome of the elections in the Russian Federation by any means, albeit long, but it is necessary to spoil it, at least for internal reporting. And here, even in the US Congress, they announced that there was no evidence on the "Trump case" - it is necessary to move on to other matters. Sent ...
A typical pattern is misinformational flows that look like a frank repetition of what has already happened, and has happened more than once. Well, in fact, nothing new ... Why invent something new, invent when there are major pillars: NPOs from among the irreconcilable and distressed holders of the latest versions of iPhones, chemical
weapon
and "mysterious" poisoning.
Previously, somehow all of this alternated, paused. Now it's not that ... In the heat of passion, everything is rolled out at once. Here you will find "support by Russia of the Asad regime of chemical weapons," and the Russian embassy with a new address on Nemtsov Plaza, and the "typical Russian" poison "Novice" in London.
Already, even in the Western media themselves, not to mention social networks, questions arise: "If Russian agents pursued Skrypal on Putin's orders, then why just before the presidential elections in Russia?" Did Putin decide to substitute himself, and also in London?
By the way, a question from the same series: "Why did Litvinenko poisoned in Britain exactly at that moment when the first information wave broke out in Russia to see if Putin would change the Constitution in order to remain for a third term". Based on this, London will soon have ads on websites posting that it "urgently needs runaway traitors from Russia" - so that there is someone to be poisoned in case of another provocation against Moscow.
And, apparently, in the American-British "universe" they recognized their move with Skripal, chemical weapons in Syria and active promotion of semi-legal NGOs in Russia so successful that against this background even the diplomatic apparatus in the United States decided to entrust the special services directly. Tillerson was untimely dismissed, and in his place pulled up a whole director of the Central Intelligence Agency - Mike Pompey. They say that foreign policy will precisely steer onto the desired trajectory without wasting time.
By the way, Pompeo is the same person who not so long ago met with representatives of Russian intelligence not just anywhere, but in the United States. Then, it is true, he was looking for words for a long time, in order to explain how "overlaid with sanctions" ended up in the holy of holies of American democracy. And now there is one of two things: either he picked up the right words - later he became a "diplomat", or the "American comrades" were not quite satisfied with the explanations. In general, instead of Pompeo, the CIA will be the lady who was previously responsible for the secret prisons of this department and directly oversaw torture. So I say: in a democratic country, nothing should move away from democracy one iota ...
Now about more than once mentioned NGOs. When the law on "foreign agents" appeared in Russia, it might have seemed that now receiving funding for their political activities from abroad would be forced to turn down the anti-Russian provocative fervor. But in "foreign agents," as it were, not losers are sitting, and therefore it was not difficult for them to "reissue" by creating affiliated structures- "gaskets", through which funding "from there" flowed. Many even didn't change the sign and the staff, they say, we receive financing from Russian structures - from Russian ones, and who said that they are fake - it's necessary to prove ... And with evidence, it's not always easy. Therefore, they continue to spoil quite openly themselves, without any signs of foreign agents.
For example, Golos, which was liquidated at the time for refusing to designate itself as a "foreign agent," continues to carry out activities to "observe" elections in the Russian Federation. Simply operating through a certain fund "League of Voters." Officially, he is not, but he is active in the network and even requests funds from users through a specially opened site. Here is a copy of the public offer to conclude a "donation" contract (available in public):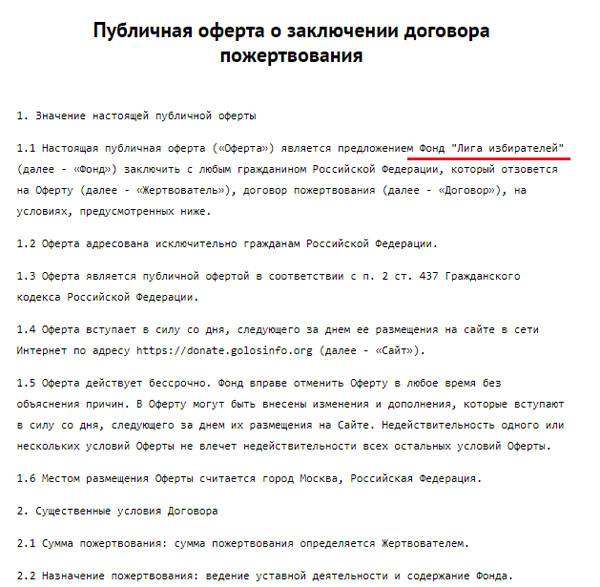 At one time, the aforementioned "League of Voters" managed to succeed on belolentochny marches of irreconcilable opposition, gathering into its ranks "Parnassians" and other fighters with the bloody regime.
And there is nothing new here - except for the financing scheme for those who wish to break into the process of presidential elections. They are financed by-passing, for the rest - all the same. Any statement that "elections in the Russian Federation should be boycotted" becomes a pretext for an entire article or an hour-long broadcast of support to well-known media- "friends of Russia", including, for example, Voice of America or Radio Liberty. Any squeak of dissent is declared an animal roar "for freedom and democracy."
As it was 6 or 10 years ago, so now. Even the question arises: is this how they themselves make it easier for the "Godfather Gabney", is it? After all, this is the predictability of level 80: poisoning, new "Powell tubes" and cookies - well, somehow too much, gentlemen, "partners", straightforward.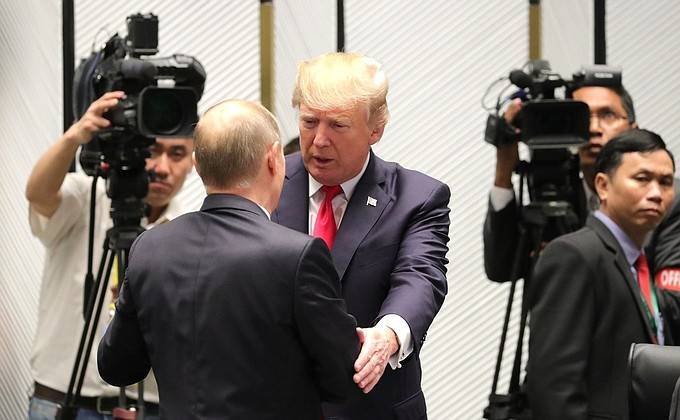 Bear in mind, partners, what if it's all the tricks of Trump's "Moscow-elected Major", so that Russia can take and hit back with two prankers at the very heart of America ... Who said "hypersonic"? ..