The Russian Ministry of Defense announced the start of the final stage of the competition for choosing the names of the latest Russian weapons; Among the most popular possible names are the combat laser complex, the nuclear submarine drone and the atomic cruise missile - "Bunny", "Poseidon" and "Nezhdanchik".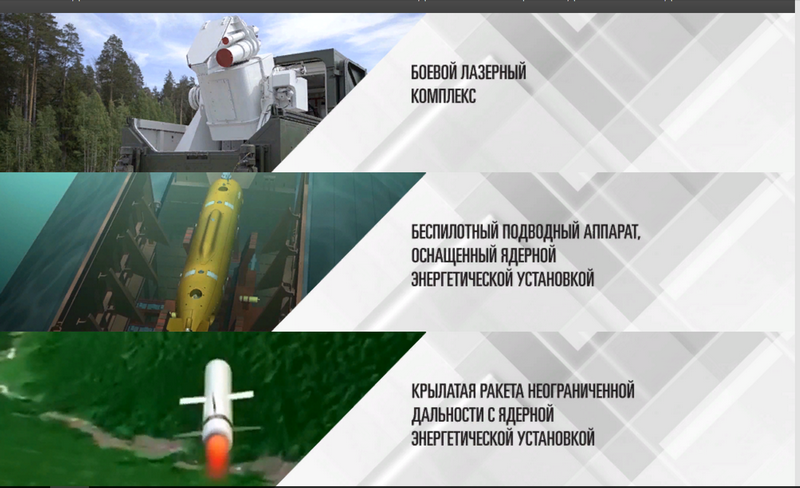 Recall that the March 1 Ministry of Defense launched on its website a special service for receiving offers of citizens with names for the three newest Russian types of strategic weapons, which President Vladimir Putin spoke about in a message to the Federal Assembly. During this time, a special service on the department's website was visited by more than 870 thousand users, among whom about a third were foreigners, according to the account of the Ministry of Defense in the social network
"In contact with"
.
In total more than 245 thousand offers with names were sent. Following the consideration of all proposals, the most popular names for each type of weapon were selected by 50.
Voting on the site for each type of weapon will last until March 16.
The election of the names has already begun. So, when voting for the name of a combat laser complex, the options "Bagir", "Oko" and "Ophthalmologist" first burst forth, and then "Rabbit" and "Luch" began to lead by a huge margin.
To vote for the name of the combat laser you like, click
HERE
When choosing a name for an unmanned underwater vehicle, which can be equipped with both conventional and nuclear munitions, Yaz first led, but now it is inferior to the Poseidon variant.
To vote for the favorite name of the unmanned underwater vehicle, click
HERE
The name of the newest cruise missile with a nuclear power plant caused the most serious struggle among users of the social network. At first, the name Nezhdanchik was in the lead, but on 15.45 Moscow time it had 18,79% of the votes, Zeus had the 19,04%, the Fox had the 15,76%, and Stalin had the 14,88% of votes. A little later, "Nezhdanchik" again took the lead.
To vote for the favorite name of the cruise missile click
HERE