History
with the attempted assassination of President of Ukraine Poroshenko, received its long-awaited sequel. Now the Damocles sword of Ukrainian justice hovered over the hero of Ukraine, the deputy of the Verkhovna Rada Nadezhda Savchenko. She, according to the Ukrainian Internet edition of Strana.ua, is threatened with charges of preparing a military coup in Ukraine, no less!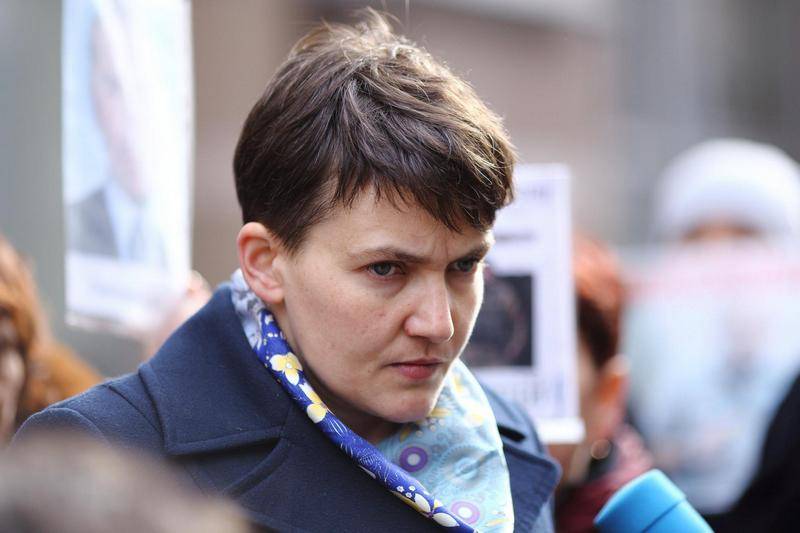 The beginning of this story was the arrest of the SBU by the head of the Center for the Liberation of Prisoners "Officer Corps" Vladimir Ruban, who is suspected of planning terrorist attacks in Kiev, the attempt on Porosheko, Yatsenyuk and others like them.
According to the Ukrainian edition, Ruban, it turns out, is not the main thing in this matter.
However, according to our data, he is far from the main figure in this case. The main blow will be delivered to a completely different person.
- says the publication.
The publication specifies that it will be Savchenko, also under the blow may be some opposition politicians with whom she was in contact. According to sources, about half a year ago Savchenko came into contact with senior officers of the Main Intelligence Directorate headed by Major Pavel Balov (call sign Kedr). They allegedly made it clear that "patriotic officers" are unhappy with the corrupt government in the country and under certain circumstances promised to help overthrow the anti-people regime. "
According to the newspaper, the military asked Savchenko to find a man who would bring
weapon
from the Donbass. She suggested to Ruban, who in November had already transported a batch of weapons from the DPR, and with the second batch he was detained.
But naturally, officials will argue that it was not the military that brought Savchenko to the idea of ​​organizing an uprising in Kiev, and she urged the military to take part in it, in fact recruiting them
- quotes the publication of the word source.
The investigation, in confirmation of this version, plans to publish a large amount of audio and video evidence.
Recall that earlier the head of the SBU Gritsak said that there was multiple evidence of links between the detained head of the Prisoners' Liberation Center "Officer Corps" Vladimir Ruban and the leader of the Ukrainian Choice movement Viktor Medvedchuk, who are in opposition to the current government of Ukraine.