The Russian Ministry of Foreign Affairs publishes a statement calling on the Ukrainian authorities to stop provocations against Russian diplomatic missions on at least the day of voting on candidates for the presidency of the Russian Federation. Recall that in Ukraine, Russian citizens will be able to vote, in particular, in the Russian embassy and the three consulates general. However, as the practice of holding elections, for example, in the State Duma, shows, Ukrainian radicals take the embassy and consulates in a tight ring and simply do not allow people to get into it to vote. The police of Ukraine at this moment silently watches the excesses occurring.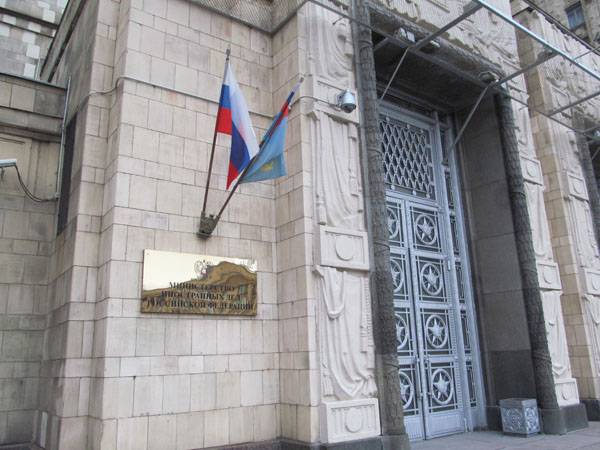 Полный текст
Foreign Ministry statements
:
Moscow is concerned about the intentions of a number of Ukrainian national-radical organizations to prevent the holding of 18 March 2018 in the Russian diplomatic and consular offices in the territory of Ukraine by voting on the election of the President of the Russian Federation.

Such threats, grossly violating the obligations of Ukraine under the Vienna Conventions on diplomatic and consular relations, are a direct consequence of the Russophobian policy pursued by the Kiev regime, mixed with overt nationalism and connivance of extremist groups of various kinds.

We demand from the authorities of Ukraine unconditional security of the Embassy of Russia in Kiev, Russian Consulates General in Kharkov, Odessa and Lvov, preventing the creation of any obstacles for their full functioning and free visiting by citizens of Russia.

We call on international organizations and structures interested in the civilized and peaceful development of the situation in Ukraine to exert due influence on Kiev and protect it from inappropriate actions contrary to generally accepted norms and rules.
The Ukrainian authorities are fully responsible for the negative consequences of any illegal actions against the Russian missions.

The Russian side will closely monitor the situation around the diplomatic institutions of Russia and Russian citizens during the elections.

We hope that Kiev will take all the necessary measures to timely prevent possible provocations.
Well, of course, in Kiev, they will not take any measures, as they have not undertaken before. On the contrary, provocations will only be even more frank and tougher, so Russian citizens on the territory of Ukraine on election day should be extremely careful. Radicals, as shown in recent years in Ukraine, are ready for anything, especially if they again receive the cherished "cookies" - for actions against Russia.