The other day in the news section "Military Review" out
material
about the fact that the military range of the Wide Lan (in the jargon of the Armed Forces of Ukraine "Srilan" or "Sri Lanka") is literally buried in mud and melt waters. Most of the tents are damp and literally filled with cold slurry. Today from the landfill come news of the fire.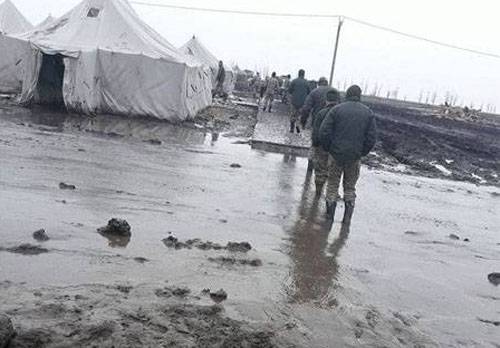 A fire broke out in one of the tents, heated by a "bourgeois" stove around 3: 35 local time. At that moment, 15 soldiers of the A0501 military unit rested in the tent.
It became known that one of the servicemen, having noticed in the middle of the night that the fire in the furnace had gone out, splashed a combustible substance (supposedly gasoline) on the coals from the bottle. As a result, a fire broke out that instantly spread throughout the tent. Explosions began to be heard - ammunition allegedly exploded.
From the statement of the prosecutor's office:
Upon the careless destruction of military property, entailing grave consequences, criminal proceedings were commenced under h. 2 Art. 412 UK of Ukraine. The procedural direction in criminal proceedings is carried out by the military prosecutor's office of the Nikolaev garrison of the southern region of Ukraine.
And this is the statement of the representative of the Supreme Court of Ukraine Yury Biryukov:
Schedule work stoker, log book, instructions, log book instruction log. We love to troll the army for its "instructional" and for its "paperiness". Somewhere in this heap of instructions it was written that it is impossible to pour gasoline into a stove from a plastic bottle ... Previously, from the words of the survivor:

the stove went out, splashed liquid from the bottle, something smoldered in the depths of the stove, a flash, clothes light up on the stoker, he begins to run around the tent, the second exit is littered with things, overturns the bottle, bursts

pre, according to VSP: sober.

Night, sleeping, lightning-like development of events, panic, misunderstanding, everything is burning ...
The first case? Well no.
As a result of the fire, one soldier died, seven were taken to hospital in severe and extremely difficult condition.