The machine of Western global governance by definition is unable to make decisions in the interests of such dissident states as Russia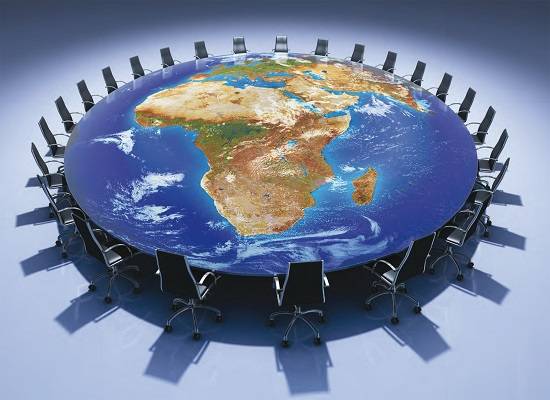 So you tell me - is it possible that Russian President Vladimir Putin is so bad in his head that a couple of weeks before the presidential election, in which he is guaranteed to achieve a brilliant victory, he can give an order to poison the ex-Colonel FSB Skripl? And not just anywhere, but in England, where they are just waiting for the next corpse with "polonium"!
Or here is Syrian President Bashar Assad. You can believe that he is such a headless idiot that he ordered the use of a chemical prohibited by international law.
weapon
his troops, who already perfectly defeated ISIS and finish off "moderate terrorists" in Eastern Gute?
Or take the textbook villain Kim Jong-un at all. Do you really think that this Korean, who got hold of a couple of nuclear missiles from power, is going to attack with their help a nuclear superpower - the United States?
I'm not talking about unfortunate Russian athletes who allegedly, like sado-masochist mice, "prick, cry, but continue to gnaw the cactus," that is, they are still eating illicit drugs, despite the IOC, WADA and Oscar-bearer Rodchenkov personally !
Remaining in sound mind and hard memory, it is impossible to assess all these accusations except for one hundred percent nonsense, or, as they are now called "golim fuck." Not having the slightest relation to reality and elementary logic.
However, the fact that the West, which one after another inflates these soap bubbles and makes them the basis of its global policy, allows us to come to some rather important conclusions about who we are dealing with and what to expect from it.
Firstly, the quite obvious incoherence of all these "magic stories", which, in the normal case, makes them obviously defective and unsuitable for use, indicates that for a mass audience, for which all these fakes are basically intended, about there is no reason to say anything normal, and even more so based on common sense and the elementary logic of world perception.
Apparently, Western propaganda deals with such mega-cockroaches in the minds of the public that it feeds, which perceives the world exclusively through the "magic glasses" of Hollywood, that it considers it to be completely redundant in some logical arguments. In this mental looking glass, inhabited by extremely vicious and insured orcs (Russian, Chinese, Korean, Iranian, Syrian - next in the list) and noble American handsome supermen, the main thing is to stick a finger into another villain in time. And then you can hang on it any kind of tukhlyatinu - swallow everything. So, the specificity of internal propaganda for local ruminant livestock that has been lowered to the level of conditioned reflexes seems to be quite adequate and quite effective.
However, some of our meticulous readers in this place will probably have the following question. Well, all right - let us assume that for our own flock of sheep this rambling howl is quite enough. But there is also another level of consideration of these issues - the one we used to call international. There are dozens, if not hundreds of relevant "international" structures, where all the pressing problems of current politics and the life of all of Humanity in general are considered. And surely there is something that is required, in support of its claims, something more serious than Teresa May's public hysteria about the "act of war on Russia", or the permanent rage of Nikki Haley's "bomber" in the UN Security Council.
Alas, but this is the greatest delusion that you can imagine. Nothing of the kind to bring forward even the most far-reaching accusations is required by the West in these international instances. Because the inexcusable top of naivety is in itself their perception of how, de facto, international, that is, impartially working in the interests of all Humanity.
To date, the only such authority that can still, with a sin in half, perform such functions, remains only the UN Security Council. And only for the reason that Russia and China have the right of veto there. And, by the way, that is why they are trying to take away this right from Russia under any pretexts.
Everything else is nothing other than the machine of global governance of the West, mainly Anglo-Saxon, camouflaged under international authority. One has only to look more closely at all these tricky structures, as it becomes clear that these are parts of one whole, making coordinated decisions always in the interests of the same western side. Which is not at all surprising, since all these instances are crammed to the utmost by Western politicians, diplomats, and lawyers, and, moreover, the United States and their closest associates are most often at the mercy.
Examples of exactly how and in whose interests this global machine of the Western government works, at least a dime a dozen. Suffice it to recall the so-called "The Hague Tribunal for the Former Yugoslavia". The judgment seat, specially organized by the West to cover up almost the total murder in prison of political and military leaders of the Serbian resistance to Western aggression in the Balkans.
No better than the so-called "international criminal court", which regularly stamps custom-made verdicts against any leaders of independent states who dare to contradict the will of the West. So it was, for example, with Muammar Gaddafi, who was accused of killing tens of thousands of Libyans, whose bodies for some reason have not yet been found. So it was with the President of Sudan, who decided to object to the oil-loving West in his plans for dividing this country.
And then there is the "European Court of Human Rights" consistently issuing anecdotal, but at the same time politically motivated verdicts, such as the payment of monetary compensation to one Ukrainian girl, who was "pursued by the authorities" for trying to fry eggs on the Eternal Flame.
The whole system of international economic relations, in turn, is intertwined with countless and entirely Western trade and legal instances, which always resolve all issues exactly as required from them. It took, for example, the United States to organize the financing of its client - the Kiev coup regime through the structure of the International Monetary Fund. And right there, radical changes were made to the charter of this organization, allowing the state to finance it, which is obviously incapable of paying off its debts. The same America wanted to impose the so-called "economic sanctions" against Russia, completely contradicting the rules of free international trade. And the World Trade Organization, supposedly guarding these rules, immediately took the hood, took water in its mouth and pretended that it "did not stand there."
Or did anyone doubt that the Stockholm arbitration will take exactly the decision that fully satisfies absolutely wild claims against Russia by Kiev Naftogaz and to the detriment of the completely legitimate interests of Russia's Gazprom in all agreements with Ukraine?
I do not have the slightest doubt that as soon as the relevant team arrives, the court instances immediately and with great enthusiasm will stamp out the decisions to arrest any Russian property abroad in fulfillment of Kiev's delusional claims.
And this at a time when the same Western courts for three years did not even lift a finger to return to Russia a Russian loan of three billion dollars stolen by Kiev!
About the legendary "International Olympic Committee" with the subversive special unit of the CIA of the United States, known as WADA, which, on the basis of scratches on test tubes, virtually destroys the world Olympic sport, because America needs America, I don't say so. These "cadres" are so lazy to disguise their actions that after the removal of Russian athletes from the Olympics in Rio de Janeiro, they admitted with a blue eye that they simply had no evidence on this subject.
There are none for all other reasons. Because the reason for such unheard of borzosti is completely different. Performers, what are supposedly completely independent "international sports functionaries," were given a clear order. Which was necessary to perform at any cost. Though burst, but do a fair amount of nastiness to this dull, eternally standing across the western road Putin.
The list of flagrant iniquities committed allegedly by "international", and in fact entirely Western, instances in relation to Russia can be continued indefinitely. Because the name of these instances is legion. Outside the borders of the Russian Federation there is practically no international body (except for the aforementioned UN Security Council) to which Russia could turn and count on a fair decision.
This is the structure of this world, conquered by the West at one time almost completely. And the one who thinks that the conquerors, having sprinkled their heads with ashes, recognized their
historical
wrong and surrendered their position. Hell no! It's just that control over Mankind on their part has acquired over the past centuries the most sophisticated, extremely veiled character, which is also packed in glamorous "international" formats, abundantly sprinkled with brilliant confetti of almost exclusive and global Western propaganda. The brainwashing of billions of people to an almost incurable state.
This whole system works for the sake of one, unchanging goal - to keep in complete obedience all the states and peoples of the world, who are meant to be geopolitical slaves of the West, its gas stations, or something else like that. And as soon as somewhere, in someone's significant minds, there is an awareness of this hopeless slavery and the desire to get rid of it, as the corresponding government, the state, and, if necessary, all the people are declared violators of the "global world order", "Aggressor state", "world doping center", "bloody regime", "rogue state" and so on according to a long-established list.
And since we are not strangers to logic, what logical conclusion can be drawn from all this? The following is obvious: any attempts by any country, including the Russian Federation, to defend any of their completely legitimate and sovereign interests at the so-called "international level" will inevitably fail due to the almost complete and direct subordination of the majority of currently existing so-called. "International organizations", in all spheres of human activity, a single center of management and decision-making, located in the West.
In fact, the question is posed by the West as follows. Either you, in this case, Russia, allow us to do with you everything that pleases us, up to the dismemberment and complete robbery of your country, or we outlaw you and incite all dogs with you, the whole pack of which are at our disposal.
In the light of this paradigm, any attempts on the part of certain domestic authorities and individuals to appeal to such elements of a foreign system of global governance are either unforgivable naivety, halfheartedly, or, worse, incitement to a deal with the geopolitical enemy at the expense of Russia. For the only condition that the West considers acceptable to reduce its aggregate and all-round pressure on our and any other country is only its unconditional surrender and acceptance of the "rules of the game" proposed from outside.