The Israeli government approved the plan of the Ministry of Defense to strengthen the Ground Forces: the purchase of hundreds of wheeled armored personnel carriers "Eitan" and the development of a new ACS, reports
bmpd
.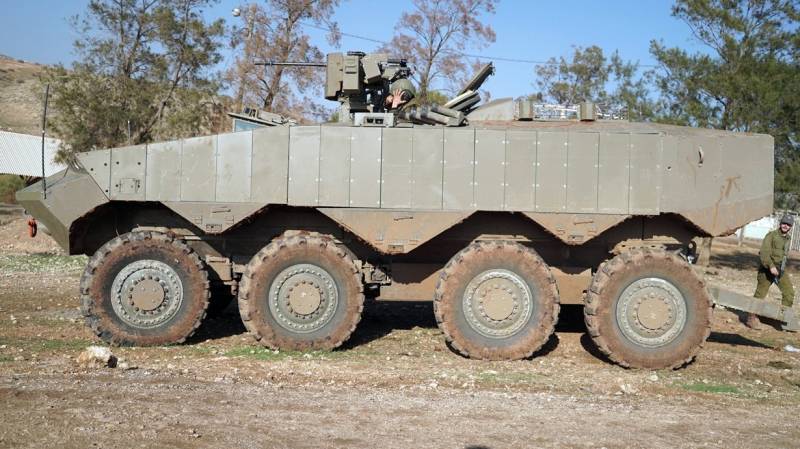 "The development department is engaged in the creation of the Eitan armored personnel carrier
tank
"Merkava" and BTT at the Defense Ministry (MANTAK). The BTR should go into series with 2020 to partially replace the M113 BTR. The Ministry of Defense declares that Eitan will be the most advanced and most protected wheeled armored personnel carrier in the world. It will have a KAZ similar to that installed on the Bamer "Namer" and the Merkava-4 tank, as well as other special protection systems, "the publication said.
The machine is based on the principle of open architecture, which makes it possible to simply integrate with it new systems and weapons in the future.
Creating a new ACS is engaged in the R & D Management (MAFAT). It is planned that the self-propelled gun will begin to enter service in the next decade to replace the ACS M109.
Defense Minister Avigdor Lieberman:
The procurement project was approved unanimously, and now it can be announced that substantial improvements will be made in the IDF ground forces over the course of a decade. For the first time, we will provide the IDF with hundreds of wheeled armored personnel carriers with an active defense system and other advanced capabilities. A real revolution will also occur in the artillery troops. There was approved a project to develop a new generation of tools. In ten years, ground forces will look completely different. More efficient, faster, more technological. In addition, these solutions will be a real help for local industry, from Kiryat Shmona to settlements on the border with the Gaza Strip, which will participate in the development and production of products, totaling billions of shekels over ten years.