The head of the Russian Center for Reconciliation of the Warring Parties in Syria, General Yuri Yevtushenko, said that the militants provide about one hundred civilians with the opportunity to leave Eastern Guty. Before that, there were quite lengthy negotiations. Among those whom the militants decided to release from the occupied part of the suburb of Damascus, there are wounded.
It is reported that civilians will approach the checkpoint located in Muhayyam al-Wafedin, which is adjacent to the humanitarian corridor.
Recall that earlier Syrian government forces for several days in a row announced humanitarian pauses of five hours each. During all these days, the militants fired at the humanitarian corridor, preventing civilians from moving in the direction of Damascus.
Until now, as reported
RIA News
, from the Eastern Guta 52 civilians were able to escape.
After unsuccessful humanitarian pauses, Syrian troops continued their offensive in Eastern Gute, cutting as a result a large group of militants almost in half. Then, after delivering a series of attacks on the main positions of the terrorists, the group was split into three parts. At the same time, the forward detachments of the SAA entered the settlement of Jizrin, entrenched in several buildings.
A map showing the situation in East Ghouta on 23: March 00 and 12 (humanitarian corridors are also indicated, including al-Wafedin and the Mleha-Jizrin area):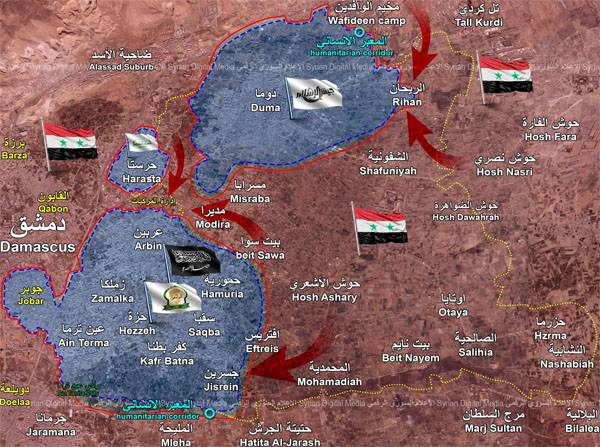 At the moment, the Syrian army is quite ready to destroy the militant group in Haraste.
After that, it became possible to begin a new stage of negotiations with the leaders of the militants, who now decided to make certain concessions.