The United States proposes a draft resolution of the UN Security Council, which will not give Russian and Syrian troops the opportunity to strike at "moderate opposition", the newspaper said
Look
statement by US envoy Nikki Haley.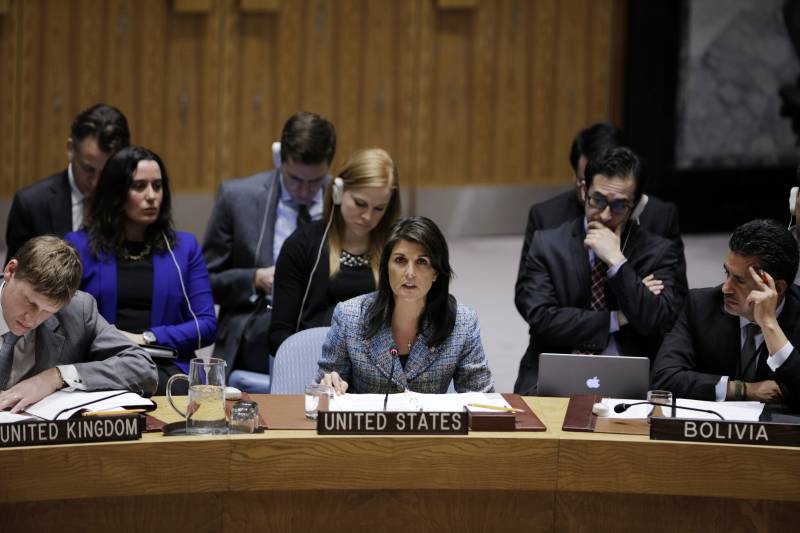 At the meeting, Security Council Haley said that Moscow and Damascus did not initially plan to implement the UN resolution 2401 on a cease-fire in Syria.
In the past two weeks, the Russian and Syrian regimes have been very busy labeling each opposition group in Eastern Ghouta, calling them terrorist groups,
she said.
We have prepared a new draft resolution on the establishment of a cease-fire regime that will not leave any loopholes. It is simple, straightforward and obligatory for execution. The resolution will come into force immediately after the adoption, there are no counter-terrorism loopholes that can be used (Syrian President Bashar) Assad, Iran and Russia,
explained the representative.
She added that if the UN cannot achieve a cease-fire in the suburbs of Damascus, the United States can again strike at Syria.
Earlier, Moscow has repeatedly stressed that the cease-fire should not extend to the fight against terrorist groups such as "Dzhebhat an-Nusra" (banned in the Russian Federation). At the same time, the militants continue to bombard civilians and humanitarian corridors in Eastern Gut.