Two hundred people were evacuated from the city of Madira of Eastern Guta occupied by militants. The SSA captured several settlements in Aleppo from the SDF. Reports about it
FAN
with reference to Syrian sources.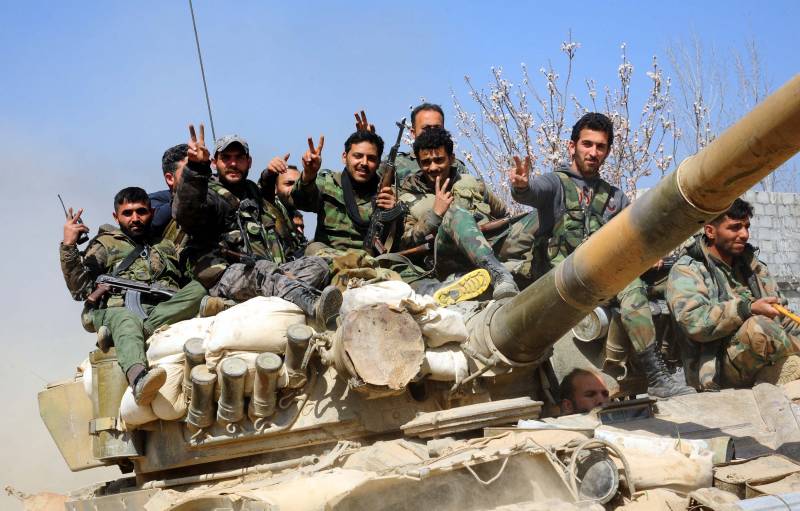 In the morning, near the settlement of Reyhan, clashes between the Syrian Arab Army (CAA) and opposition militants were recorded. Also, battles between government forces and radical opposition forces did not cease in the Harasta region. Later it became known that the specialists of the Russian Center for Reconciliation of the warring parties in Syria agreed with the opposition to withdraw civilians from the areas of Eastern Guta occupied by the militants. A total of 200 people were displayed.
In the north of the province of Aleppo, intensive exchanges of fire continued between the Democratic Forces of Syria (SDF) and pro-Turkish groups during the day. The Ankara-controlled Syrian Free Army (SSA) seized from the SDF settlements Zendkan, Kile, Burj Kamshun in the area of ​​Jandaris. In addition, the SSA drove out Kurdish militia fighters from the settlements of Belian, Ar-Rais al-Ahmar, Iskan and Karakin. The armed forces of Turkey and the allied forces are located one and a half kilometers from the city of Afrin. Civilians leave their homes and flee to Tel Rifat.
The Russian Aerospace Forces, together with the Syrian Air Force, inflicted a number of attacks on the strong points of Jebhat al-Nusra (banned in the Russian Federation) in the province of Idlib.
Aviation
Allies attacked the fortified areas of radical Islamists near the Binnish settlement in the north of the region, as well as in the vicinity of the village of Taftanaz in the eastern part of the province.
A new headquarters of the Syrian Democratic Forces (SDF) has been created in the village of Al-Bogha, near Ain Issa (Raqqa Province), which will coordinate the process of mobilizing the civilian population of the region into the ranks of the "democratic army".
The Russian Aerospace Forces continued to strike at the locations of the "Al-Nusra" terrorists in the north of the province of Hama in the vicinity of the settlements of Murek, Kafr Zeta, and Maarkaba. Under the cover of military aircraft, the Syrian Arab Army (CAA) fired on the positions of radical Islamists near the village of Al-Amik.