The state corporation "Rostec" reported on the implementation of new technologies when creating tracks for armored vehicles. It is primarily about the products that are being created at the Omsktransmash enterprise (part of the UVZ).
Press office
The company notes that the assembly of the tracks now completely eliminates manual labor:
The production process of the track is fully automated, the assembly of products completely eliminates manual labor. Operators only exercise control over the accurate and uninterrupted operation of systems all the mechanical work in which robots do.
Earlier, the chief engineer of the enterprise, Yuri Mischenko, noted that during the "life cycle" on the models of armored vehicles, the 2-4 of the caterpillars change.
Yuri Mishchenko:
Their planned replacement occurs at a certain mileage set, and the frequency depends on the operating conditions, soil types and types of machines.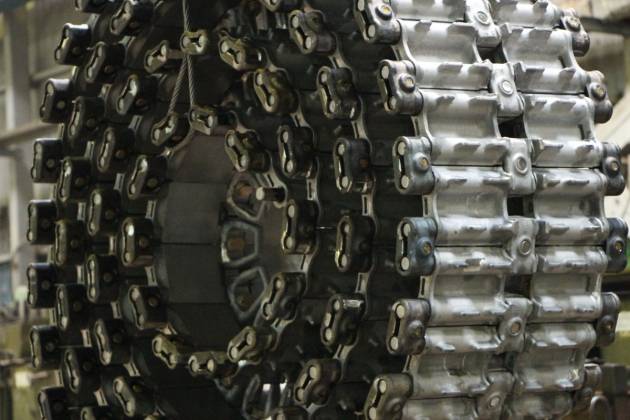 For your information:
JSC Omsktransmash is currently the only manufacturer of tracked belts for Russian armored vehicles. The main task of the enterprise, as the management notes, is related to the provision of a closed cycle of caterpillar production.
It was added that the automation of production allowed increasing the production of tapes almost 4 times. The robotic system not only produces tracks, but also checks their final quality.