The CAA has split into two Islamist enclaves in Eastern Ghouta. Russian aircraft dropped humanitarian aid to residents of Al-Foy and Kefraya in Idlib. Reports about it
FAN
with reference to Syrian sources.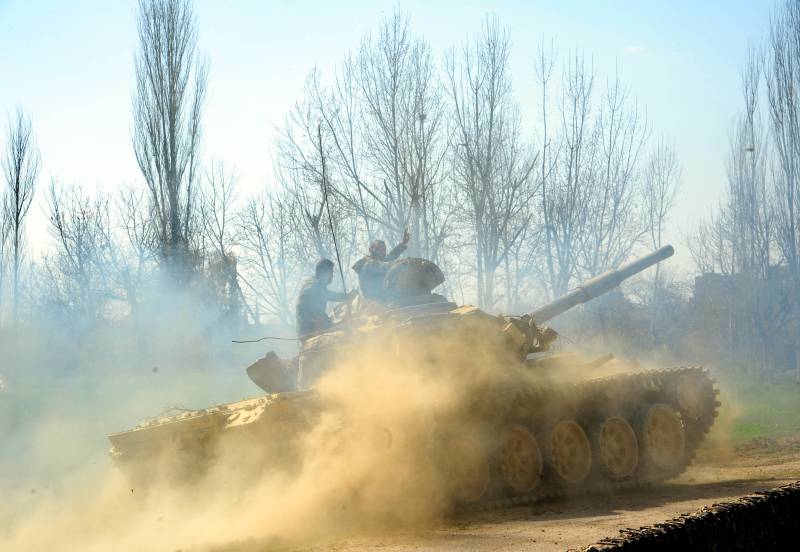 In the past day clashes resumed south of Damascus. Anti-government militants from the Al-Kadam quarter in the south of the capital agreed to accept the terms of the armistice agreement with the Syrian government and head to Idlib. The armed standoff in the Eastern Kalamun aggravated. Radicals fired on the Damascus-Baghdad highway, as well as the Al-Dumeyr military airfield. In response, the SAR Air Force conducted combat missions in the zones of deployment of militants in the area of ​​the city of Al-Rahayb. According to sources, the military operation to clean up the territory of the Eastern Kalamuna will begin immediately after the liberation of Eastern Guta.
By evening, the SAA Tigers' special forces soldiers captured the fortress city of Madeira, northeast of Damascus, splitting the Islamist enclave in two. It is reported that during the liberation campaign of the CAA in Eastern Ghouta, 120 Islamists were neutralized. Meanwhile, about 60 civilians were removed from the liberated city of Misrabh the day before. The local population reported that the radicals did not let the citizens out of the settlement so that the government forces would not intensify the strikes.
The pro-Turkish militants fortified one kilometer from the key city of Afrin. The villages of Kibar, Jakmak, Almadar, Dzhandzhala, Shagir, Hajman, Dzhubbali, Gokoba, Kafr Batra, Ain Dara, Khudzhamanli and Alibek passed under the control of the Syrian Free Army (SSA). At the same time, the SSA, with support from military aircraft of the Turkish Air Force, developed an offensive east of the settlement of Jandaris.
In the southeast of the province of Deir ez-Zor, a group of IS militants (organization banned in the Russian Federation) voluntarily surrendered to the pro-American detachments of the Syrian Democratic Army (SDF). Local sources believe that igilovtsy will soon be among the fighters of the "democratic forces". Earlier it was reported that the former IG fighters occupy high positions in the US-backed formations.
The militants of the terrorist alliance, led by Jebhat al-Nusroi (banned in the Russian Federation), based near the administrative center of Idlib province, again fired on the civilian settlements of Kefraya and Al-Foix, besieged since 2012. Towards evening, the Russian Air Forces responded to the aggression of Al-Nusra by inflicting airstrikes on the gathering points and militant deployment zones. It is known that the group has lost dozens of Islamists. Russian
aviation
also dumped local residents humanitarian aid with food, medicine and ammunition for fighters defending settlements.