Scandal is not a scandal, but an unpleasant phenomenon. I am glad that not everyone in Bulgaria supports the outright brawler and Russophobe Simeonov, it saddens me a little personally that such phenomena take place. But in the family, as they say ...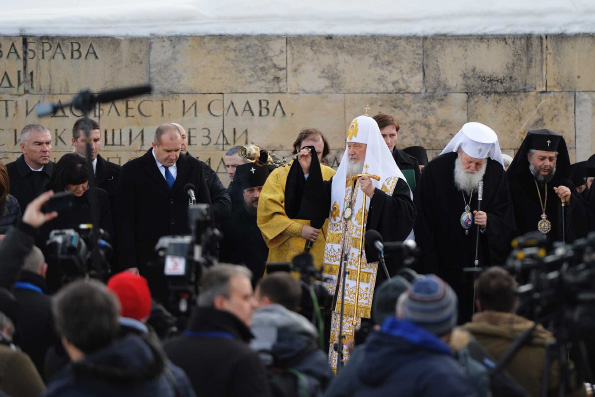 However, in fact it is worth saying a few words on this topic. Someone (in Bulgaria, perhaps) they do not like, but nevertheless.
So, the following happened.
Our Patriarch Kirill arrived in Bulgaria on a visit to participate in the festivities dedicated to the 140 anniversary of the liberation of Bulgaria from the Ottoman yoke.
The visit, most likely, would have gone unnoticed if it had not been caused by a scandal by some gentlemen. Or rather, one person said something not quite beautiful, and the second did not consider it necessary to keep silent.
Speaking at the official (underscore) March 3 ceremony, Bulgarian President Rumen Radev did not quite correctly speak about the role of the Russian government and people in fraternal assistance to the Bulgarian people.
Again, I emphasize very boldly, because Mr. Radev as a whole did not say anything offensive or criminal. In particular - yes, who wrote the text to him, I do not know, but judge for yourself.
In the first part of the appeal, everything was smooth. This part of Radev's speech differed little from what our Patriarch Kirill said. Thanks to the Russian people in general and to Emperor Alexander the Second in particular — everything is fine.
However, the President further said: "On the battlefields of the Russian-Turkish war of liberation, soldiers died - representatives of many nations: Russians, Romanians, Finns, Ukrainians, Belarusians, Poles, Lithuanians, Serbs and Montenegrins. For all of them, Bulgaria has become their last home, and we honor them as our heroes. "
Later, during a bilateral meeting with the president, Patriarch Kirill expressed his opinion on this matter: "Once again I want to tell you very clearly that Russia liberated Bulgaria. Not Poland, not Lithuania, not other countries, but Russia. And I want to frankly say that it was difficult for me to hear all these references to the participation of other countries in the liberation of Bulgaria. Neither the Polish Sejm nor the Lithuanian Sejm made a decision to start a war with Ottoman Turkey. I really hope that the media will hear us and pass on some disappointment to the patriarch, who heard the wrong political interpretation of the events related to the liberation of Bulgaria. We are for it
historical
"the truth, we won it with our blood, and there can be no political and pragmatic reasons why today this truth should be hushed up or falsely interpreted."
Some media immediately began to tell that Cyril did it in an inappropriate manner. But there are recordings of the speech, the clergyman (in my opinion) was very correct and humble. I would not have acted in his place if given.
What is the point? And the bottom line is that Kirill is right. Bulgaria was liberated by the Russian army. Or the Russian army. Who is more convenient.
Yes, Russia in the 19 century, oddly enough, was also a multinational state. And according to 1914 of the year from the institute of the Ministry of the Interior of the whole 104 nation, not including small ethnic groups, the empire was a part of the empire.
Problem? Problem.
Honestly, I don't know how many Finns, Romanians, Poles and Lithuanians died there. But the loss of the Russian army are known.
According to the Military Medical Report, the Russian losses were:
- killed in battles - 15 567 people;
- dead from wounds - 6 824 people;
- wounded - 57 652 people.
That's how it is. You can't cut an ax out, you can't die out of history.
Yes, those who opposed the Turks in that war are today proudly referred to as the "anti-Turkish coalition." We look, who entered:
1. Russian empire.
2. United Principality of Wallachia and Moldova.
3. Bulgarian militia.
4. Principality of Serbia.
5. Principality of Montenegro.
6. Bosnian and Herzegovina rebels.
Comment - do not respect yourself. I will not. And so it is clear who played the first (and second) violin, who suffered the main losses. Obviously not militia units. No offense, of course, but true.
I agree three times with Cyril, the main burden of the war was borne by the Russian army. And the Russian soldiers defeated the Turks. Not Finns or Romanians.
About the Poles in general, a separate conversation, apparently, nobody reported to Mr. Radev about the Polish legion who fought on the side of the Ottoman Empire. It's a pity…
In general, such an enumeration is nothing but an attempt (regular) to humiliate the merits of the Russian people and the Russian army.
Or, gentlemen, a little list in hand - and be kind enough to list ALL who participated in the war. And the Bashkirs, and Tatars, and Kalmyks ... In short, all 104 nationalities of Russia.
That is how it will be honest, at least.
But then everything went completely in the Western style. That is dirt and screams.
Bulgarian Deputy Prime Minister Valery Simeonov climbed into the arena of battles and delivered a speech that many Bulgarians did not like. About the Russian already silent.
"This man did not come down from heaven, did not come out of Paradise, and is not a messenger of Jesus Christ. He is known as the cigarette metropolitan of Russia. Since 1996, he has imported billions of excise-free cigarettes to 14. At 14 billion dollars, this tricky man imported non-excise cigarettes and 4 billion dollars of wine for the needs of the church. He has a private jet. His watches are worth 30 thousands. Who is he? This is not an East European confessor. This is agent Mikhailov, second-rate agent of the Soviet KGB. And this man has the audacity to judge the court of history. "
Well, the fact that Mr. Simeonov condescended to study Wikipedia, which is, of course, wonderful. This is me about the "agent Mikhailov." There, with the evidence base, everything is sad, but if you really want ...
Here I really want to bring on this one Bulgarian national proverb.
"He is not working for Magareto!"
Here is its meaning in the best way possible for what Mr. Simeonov threw out.
A little incomprehensible, Simeonov just jealous, or what?
We know that the Russian Orthodox Church is the main importer of cigarettes without excise in Russia. And the wine is imported cisterns, yes. For their needs. But this, forgive, is exclusively OUR, Russian business. Maybe Simeonov pity that no Bulgarian cigarettes are imported? But this is generally a different issue.
The clock, the plane, the boat, the yacht ... Mr. Simeonov, greed and envy are mortal sins, by the way! In any religion.
And then, again, this is our Russian pop. And only our business, to condemn his watch for 30 000 dollars, or let them wear.
Your business, Mr. Simeonov, to monitor the cleanliness and order in all respects in Bulgaria. So far we have something to show you. But here we will not present. According to the breadth of the Russian soul.
And we will do the trial of history. We have the right. And, if gentlemen like Simeonov are forgotten, then we, descendants of storming Shipka and Pleven, and those who fought in two world wars for some reason on the other side of the front, we recall.
We have, I emphasize, the right.
And in terms of withdrawal, I want to advise (although Mr. Simeonov will never read this advice) not to be historical fools. And do not act on the instructions of our enemies.
I have a reader, even a friend, Maxim Mukhammetzyanov from Bugulma. His great-grandfather was the foreman. Cannon drove his harness. In Tatars in general, ancestral memory is a special matter, because of Nasyr Mukhammetzyanov remember. How he brought the gun to Pleven and how he returned from there with one foot. But back.
Tatars are not worthy of mention? And Nasyr was not the only one in the army. And there were no less other nationalities. Fact.
Not only Russians fought in the Russian army. And if absolutely to be clever and correct, everyone was Russian there. Blood was one. Red
Nonsense and lack of education saddens. This is from the same opera, as "thanks to the Ukrainians for the liberation of Auschwitz." Yeah, the First Ukrainian Front consisted only of Ukrainians, right? That is, it was created by renaming the Voronezh Front into the First Ukrainian - aspects. Voronezh ended in battles, scored the Ukrainians and renamed ...
And fools are happy to repeat.
No complaints to the president of Bulgaria. Nearly. It is clear that I did not have time to read what was written to him there, and that was a complete garbage.
But in such things, you still need to be careful. This is not a MiG to Ukraine for repair to give, right?