The American medium tank Sherman, lifted from the transport vessel Thomas Donaldson flooded in 1945, was delivered to the MTO brigade located in the Leningrad Region, reports
RIA News
Post press service ZVO.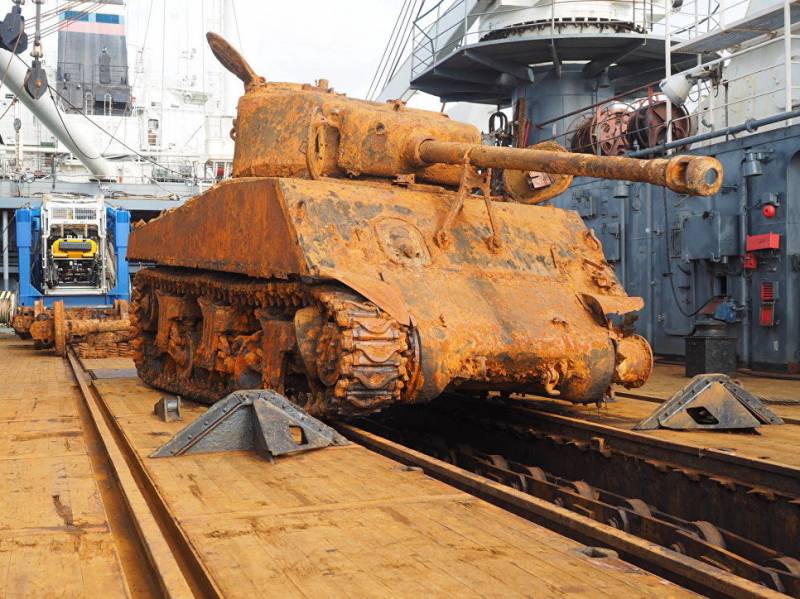 An American medium tank Sherman from World War II from the transport ship Thomas Donaldson was delivered to the logistics brigade of the Western Military District (ZVO) deployed in the Leningrad Region.
says release.
It is reported that "according to experts, the tank raised to the surface is in a satisfactory condition, and in the near future the servicemen of the repair and restoration battalion will begin restoration and restoration work."
According to the press service, the 9 in May, the combat vehicle will take its place in the ranks of the deployed expositions and residents and guests of St. Petersburg will be able to see it.
The district added that "in 2017, the North
fleet
were discovered, raised to the surface and transferred to the museum for study and restoration of the remains of the AeroCobra aircraft found in Shchuk Lake, as well as three
tank
"Sherman" and four units of industrial machine tool equipment from sunken vehicles "Thomas Donaldson".
Help agency: "American transport cargo ship" Thomas Donaldson "class" Liberty "was built in 1944 year, 20 March 1945 year in 20 nautical miles from the Kola Bay was torpedoed by a German submarine. The team managed to leave the sinking ship. When hit by a torpedo 132-meter transport fell apart into three parts. Cargo and civilian cargoes remained in the holds: tanks, anti-aircraft guns, cars, engines for speedboats, road rollers, disassembled steam locomotives, rails, wheel pairs for railway cars, and trusses for construction. "