During the initial stage of military operation, almost all the main defects of the "Warrior" equipment were eliminated. About this in an interview with the radio station
Echo of Moscow
said the head of the military scientific committee of the Land Forces of the Russian Armed Forces, Colonel Alexander Romanyuta. Colonel of the Russian Armed Forces noted that since the beginning of military operation in the 2015, the year has changed to 60 percent of the components.
At the same time, the head of the committee added that they continue to receive messages and suggestions from military personnel operating the military kit. Analysis of the collected data allows to improve the "Warrior", introducing, for example, new elements.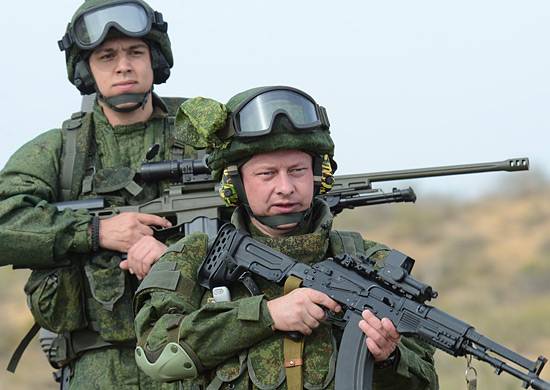 So, in 2018, it is planned to finalize the multifunctional knife. Its functionality will be expanded at the expense of the device for loosening and tightening the screws, as well as at the expense of a set of interchangeable screwdrivers that are indispensable in the process, for example, routine maintenance
weapons
.
Recall that previously reported the introduction of the third generation of individual equipment "Warrior-3" to 2023 year. The set is supposed to be equipped with improved life support systems and individual protection. It is also planned to replace the communication systems used today.
Today, the "Warrior" is equipped with armor-jackets and body armor, combat overalls, a headset with an active hearing protection system, special glasses, knee and elbow protection elements, small arms, combat knives, as well as reconnaissance devices, compact binoculars, standardized optical and thermal sights.