The command of the Luhansk people's militia reports on the upcoming provocation by the Ukrainian radicals. It is noted that such a provocation can be made with the use of a military uniform NM NMR. The official representative of the republican people's militia Andrei Marochko during a briefing said (quote
Lugansk Information Center
):
According to our information, military uniforms used by the servicemen of the People's Militia of the LPR were brought to the intelligence units of the operational-tactical group "Lugansk". These units, dressed in this form, will be used to conduct large-scale provocations in order to destabilize the situation in the conflict zone and create favorable conditions for the transition to active offensive actions.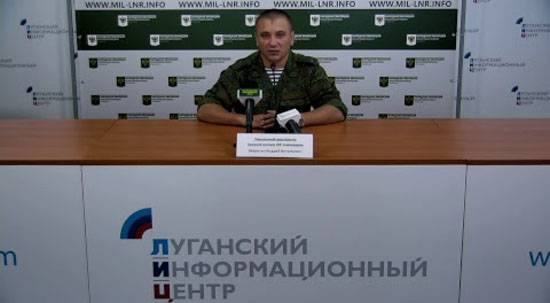 It is noted that the Ukrainian security forces can use military uniforms of the LC of the LC of the People's Republic of Belarus in the shelling and other provocations in populated areas of the so-called "gray zone". This is a territory that is a neutral strip that stretches along the line of contact from the LC to the Sea of ​​Azov.
According to Andrei Marochko, provocations can be carried out in relation to representatives of the special monitoring group of the OSCE, operating in the Donbas.
Marochko:
We are aimed at resolving the conflict in the Donbas peacefully and for this we are providing full assistance to the OSCE Special Monitoring Mission and strictly follow the Minsk agreements
.