The final tests of the Barys multipurpose armored vehicle were conducted in Kazakhstan. This armored vehicle with a wheel version 8х8 is created under the Kazakhstan-South African contract. For these purposes with the South African company
Paramount Group
joint venture was created
Kazakstan Paramount Engineering
. Several "Barysovs" have been made on it, which are undergoing the necessary tests.
The manufacturing company publishes the latest data on the technical characteristics of the multipurpose wheeled armored vehicles:
maximum payload - 9 tons, maximum speed - 100 km / h, power reserve (on the highway) - 800 km, protection level 4A / 4B (STANAG 4569).
The armored vehicle is equipped with special anti-mine seats, the design of which reduces the risk of injury to military personnel in the event of a Barys exploding on a mine.
Barys 8x8 has a 7,62-mm machine gun and an 30-mm 2A42 cannon (Shipunov and Gryazev cannon), - from the official release.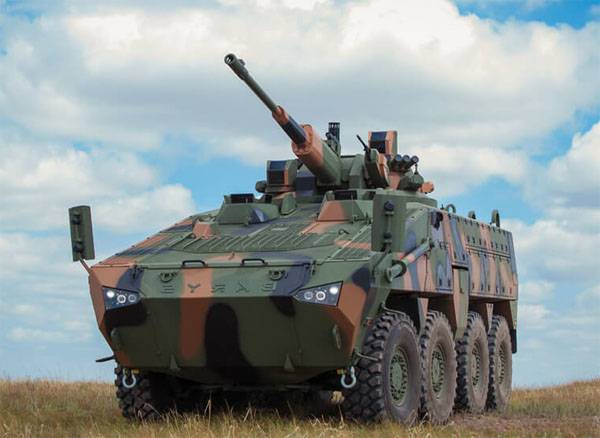 From the presentation material
company
Kazakstan Paramount Engineering
:
"Barys 8x8" allows you to provide unsurpassed protection from mines, improvised explosive devices, roadside blast-free land mines.
It is known that Turkish electro-optical means are implemented at Barys.
A representative of the South African company in Kazakhstan noted that the tests were also carried out in conditions of extreme temperatures - up to -45 degrees Celsius.
Planned production volumes - up to 200 armored vehicles per year.