The media have appeared statements about the alleged version of the crash of the An-26 in Syria, according to which the plane did not fly about 500 meters to the airfield due to technical problems. Newspaper
Kommersant
citing a source in the military transport
aviation
The Russian Federation writes that "damaged flaps" became the cause of the crash.
According to these statements, when flaps were released, one was actually torn out, which resulted in a sharp roll of the aircraft. On landing An-26, in which a 39 man flew from the Kweiris airbase to Khmeimim, turned at a significant angle. It is stated that an unexpected roll during the landing did not allow the transport aircraft crew to take urgent measures to save the car and people. As a result, the plane began to dive from a height of "a few hundred meters."
From the material:
The plane suddenly pecked into the ground.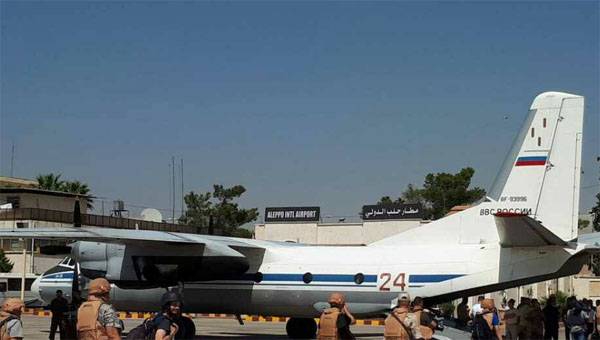 What exactly was the cause of damage to the flaps, not reported. Nor is it reported whether An-26 underwent a proper pre-flight inspection.
Recall that earlier the Russian Ministry of Defense immediately dismissed the version of the attack on the plane from the ground and the impact of weather conditions. Militants of one of the terrorist groups have declared their involvement in the crash of An-26, however, experts consider such statements to be fake, as usually terrorists immediately post videos of shelling. In this case, neither photos nor video frames with a crash have been published.