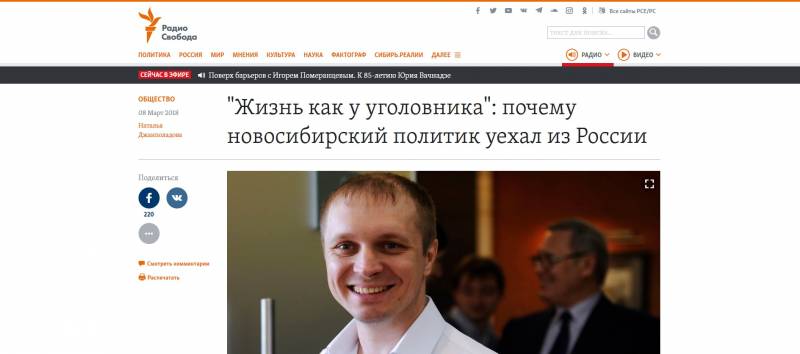 Whether it is accidental or not, but all the "victims of the Kremlin's intrigues", in which they do not get tired of convincing Russian society, organizations that are referred to as "foreign agents" in Russian legislation are in reality not sufferers for the truth, but individuals who are listed as very unseemly .
Even the "largest" figures from this series, although such a term does not refer to their ratings and social and political significance, such as Mikhail Kasyanov or Mikhail Khodorkovsky, were in trouble with the law not in the political sphere, but in the field of criminal law. Known "fighter against corruption" Alexei Navalny, no one forcibly forced to get involved in the case of "Kirovles", did not put a knife to his throat and did not require to perform illegal actions.
In general, it seems that many "opponents of the regime" and "fighters for democracy" are on piecework wages, and get more the more they have conflicts with law enforcement agencies, get abrasions during unauthorized actions, etc. Throws in them cakes or eggs, watering "greens" are probably paid at elevated rates ...
The other day, political asylum in the United States asked Yegor Savin, the so-called "oppositionist" from the Novosibirsk region. There, he was an activist at the beginning of Mikhail Kasyanov's RPR-Parnas, and then transferred to Mikhail Khodorkovsky's Open Russia.
The organ of "democracy and the struggle for human rights", a ray of light in the "dark kingdom of the Kremlin dictatorship" "Radio Liberty" immediately burst into heartfelt speech, causing tears of tenderness and a feeling of immense compassion for the unfortunate "victim."
She, of course, also did not suffer modesty and told how she was tortured in distant Siberia.
To the question of the Freedom correspondent "What exactly happened to you in Russia? I know that there were threats, provocations, arsons, the business collapsed ... ", Yegor replied:
- For the first time in 2011, the parents' house was set on fire. They lived not far, near Berdsk, Novosibirsk region. And then more and more problems arose. A criminal case on 282 (extremism) was brought to me, during interrogations I was openly told that "you need to leave, or we will put you to prison." Business was burned to me several times (Savin had an agricultural business. - RS). How many dozen times the wheels pierced, I do not even remember how much now. They threatened his wife on the phone, they poured blood on the car. Any business checks, inspections, arrests ...
Further, he continued the narration about his difficult tragic fate. And to the next question, "And you didn't allow yourself to stop involved in politics, to move away from Parnassus, from Open Russia, but not to leave?" Savin replied:
- It is very hard for me to live in the atmosphere that has developed in Russia. I tried to change something in the environment in which we live, and maybe came from the point of view of a regional opposition politician far. But I think that even if I stopped, the problems would not end. All spring last year, I was either three or four times a week either in the prosecutor's office or in the mentovka. "The house is the police, the house is the police", then polls, then interrogations, then something else. I already have a life like criminals - some calls and interrogations, dozens of letters from the authorities. In fact, there was no time to do anything else - neither work nor politics, I just went to the police ...
True, the unfortunate "victim of Russian arbitrariness" quite tactfully kept silent about many things that are well known in the Novosibirsk region. In particular, that the name of Yegor Savin was always associated with loud scandals that lowered the already low rating of liberal forces and their popularity in society, what is called, below the baseboards ...
Savin's "operetta" participation in conducting the famous "Monstrations", as well as his organizational role in the failures of visits to Novosibirsk by right-wing forces leaders Mikhail Kasyanov and Alexei Navalny, did not benefit the so-called "non-systemic opposition", but always discredited it even more.
At the Novosibirsk apologists of this ideological direction, Savin's behavior raised more and more questions that they still haven't received answers to.
For example, how did it happen that a certain 21-year-old Maxim Kormelitsky, an activist of the youth branch of the opposition party RPR-Parnas, the creature of the same Yegor Savin, in April 2016-year in the satellite city of Novosibirsk - Berdsk, was detained on suspicion of theft system unit? A criminal case was initiated against him under article 158 h. 2 of the Criminal Code "Theft".
Previously, this young man was involved in criminal cases under several articles: "Dissemination of extremist materials", "Beatings", "Knowingly false reports about an act of terrorism", and "Causing grievous bodily harm". And after that, Kormelitsky during the walk struck several knife blows to his acquaintance, and the girl survived only by a miracle. How did he enter the youth branch of RPR — Parnas?
Egor Savin himself, in September 2015, hit a pedestrian in his car, which turned out to be Maxim Sovbanov, deputy director of the Berdsk Center for Municipal Services. This offense ended well for him, that is, nothing.
A little more than a year ago, the whole wide democratic public actively discussed the fact of the mysterious poisoning with an unknown substance by the well-known oppositionist and public activist Vladimir Kara-Murzy Jr.
In early February, 2017, he was taken to a Moscow hospital in serious condition. The wife of the journalist said that the doctors diagnosed him with acute intoxication with an unspecified substance. The Investigative Committee of Russia began checking media reports about the alleged poisoning of Vladimir Kara-Murza, Jr. The journalist got into intensive care with the same symptoms as the year before last, when he suddenly became ill and fell into a coma.
But on the very eve of the poisoning, on January 27, Vladimir Kara-Murza, Jr., visited Novosibirsk, where he presented a private screening of the film "Nemtsov". As Radio Liberty reported, this event was rather limited and took place in one of the city bars. The same Novosibirsk oppositionist Yegor Savin, with whom Kara-Murza, the victim of an unknown substance, had long and closely associated, initiated the event. .
All of these and similar incidents have dropped the authority of Yegor Savin so that there is no place further ...
And here it is impossible not to recall that the commission of the Council of the Federation on the protection of state sovereignty of Russia, like
said its head Andrei Klimov
, received information that the United States intends to present the illegal presidential elections in Russia, to sway the political situation in the country. In May, the United States will issue a special report on this topic, he said.
"The US, through its state propaganda bodies, imposes the point of view that if, according to our CEC, turnout in the presidential elections of Russia is higher than 45%, then this is a substitute, supply and distortion of reality. That supposedly without certain defendants turnout be higher than 45% he cannot. It is now invested in the heads of not only Russian citizens, but also abroad, "said Klimov in an interview with Interfax.
"The propaganda of this idea, which is carried out, including through the channels of the global media, sometimes spends hundreds of thousands of dollars a day. If you look at how much newspaper and magazine pages cost, where it is located, and how much airtime costs, where it's all given then you come to the conclusion that this is not a cheap pleasure, "Klimov emphasized.
Of course, in order to manage such shadow cash flows in the regions and to mobilize liberal forces, clearly inspired in anticipation of receiving such fat cash pieces, we need especially "gifted" individuals who enjoy the confidence of their foreign curators.
It is absolutely obvious that Yegor Savin does not belong to such people, otherwise he would simply be "asked" to remain in such a situation in Russia.
Rather, realizing his obvious worthlessness and uselessness, overseas bosses allowed him to leave Russia so that he would play his last political role, namely, he would become the next "victim of the bloody regime" in the global media ...
However, as always, when it is connected with the name of Yegor Savin, this plan not only failed completely, but only played a cruel joke with its organizers ... In fact, what are the Russian "non-systemic oppositionists" and especially their Western friends if they use services of such personalities?