France considers Russia a great power, which must be respected, but the French authorities have questions about a number of actions of Moscow in foreign policy, reports
TASS
statement by the country's foreign minister, Jean-Yves Le Drian.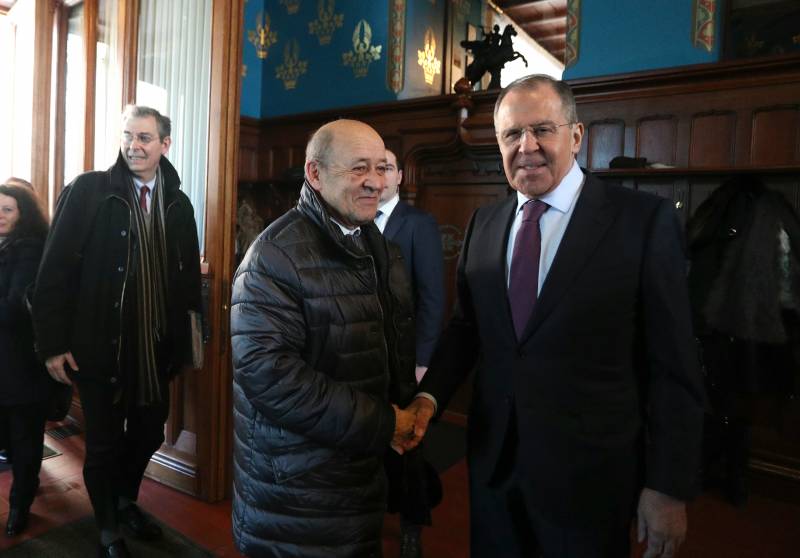 Russia is a great power that must be respected, which has great power, but at the same time Russian foreign policy worries us,
said Le Drian on C News.
According to him, the concern of France in the first place cause the Ukrainian and Syrian directions.
This concerns both Ukraine and the fact that they (the Russian Federation), in our opinion, do not take responsibility for the Syrian issue. We expect Russia to be at the height of its responsibility in resolving the Syrian crisis, and this applies not only to the humanitarian issues of today, but also to the political issues of tomorrow, which will allow Syria to regain stability,
said the foreign minister.
At the same time, he stressed that today's countries "have established good contacts at the level of top political leadership: French President Emmanuel Macron often calls up with Russian President Vladimir Putin to discuss key issues."
They (Macron and Putin) talk regularly, exchange opinions, this is important. In addition, President Macron will travel to Russia in May on a state visit, in St. Petersburg he will take part in the economic dialogue initiated by Russia,
added Le Drian.
The Foreign Minister also touched on the issue of his relationship with his Russian counterpart Sergey Lavrov.
Lavrov is not always adamant, there are moments when he is very pleasant, although there are moments when he takes a tough stance. When we meet, we explicitly state everything, I think that in diplomacy it is important to speak directly and clearly, and this is emphasized by President Macron. We need to make clear our position, we need to avoid confusion, and when we know each other's positions, we can begin to look for ways to meet each other,
noted the minister.