The government delegation of the Republic of Korea will convey the message of the head of the DPRK, Kim Jong-one to the American side,
RIA News
message agency Kyodo.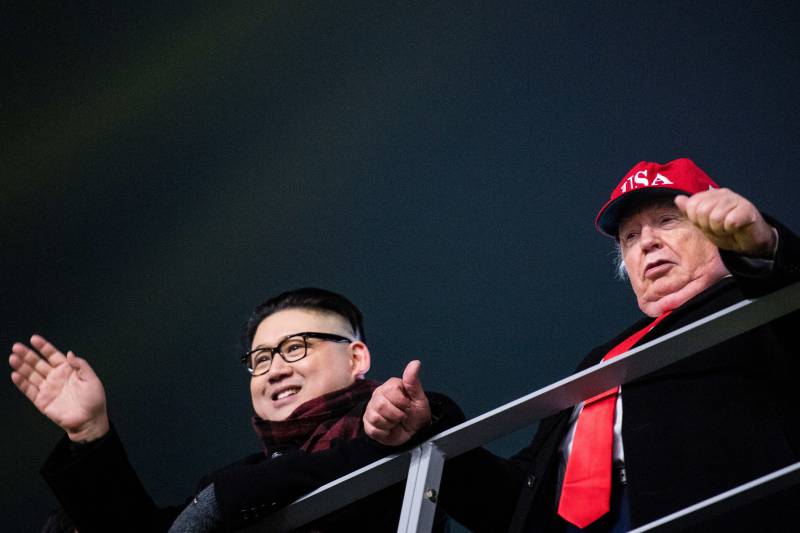 People imitating Kim Jong Un and Donald Trump at the opening of the Winter Olympics.
Today, members of the delegation flew to America to tell in detail about the results of their trip to the DPRK (March 5-6) and meeting with North Korean leader Kim Jong-un.
According to the agency, "South Korean diplomats will pass on additional messages from the DPRK to their American colleagues," that is, about which they have not yet been told to the general public.
Today it is known that during the visit to Pyongyang "the parties (RK and DPRK) agreed to hold a summit of the two countries at the end of April and organize a" hot line "to hold close consultations and to mitigate possible military tensions," the newspaper writes with reference on the administration of the South Korean president.
In addition, the DPRK "expressed its desire to conduct an open dialogue with the United States to discuss the issues of the Korean Peninsula's denuclearization and normalization of relations", and "made it clear that while the dialogue continues, it will not resume strategic provocative actions, including conducting regular nuclear tests or ballistic missile launches. "
Pyongyang also confirmed the "commitment to the denuclearization of the Korean Peninsula and made it clear that it would have no reason to possess nuclear weapons in the absence of military threats to the DPRK and guarantees of the safety of the North Korean regime."
In addition, the DPRK leadership stated that it did not intend to use not only nuclear weapons, "but also conventional types of weapons," against the southern neighbor, said the South Korean administration.