RIA News
citing human rights activist Ammar Jabal, reports that the population of Eastern Guta, despite the threats from the militants, took to the streets of Damascus suburb to rally against terrorist outrage. It is reported that hundreds of residents of the Duma settlement, located in the suburbs of Damascus, demanded that the terrorists of the Jaish al-Islam group (* prohibited in the Russian Federation) allow them to go through the humanitarian corridor.
Recall that a large part of Eastern Guta is currently under the terrorist occupation of "Jaish al-Islam" * and "Dzhebhat an-Nusra" *. Militants shoot humanitarian corridors, preventing civilians from leaving the Duma, Harast and other suburbs of Damascus.
A few days earlier, the first UN humanitarian convoy arrived in East Gutu in a long time.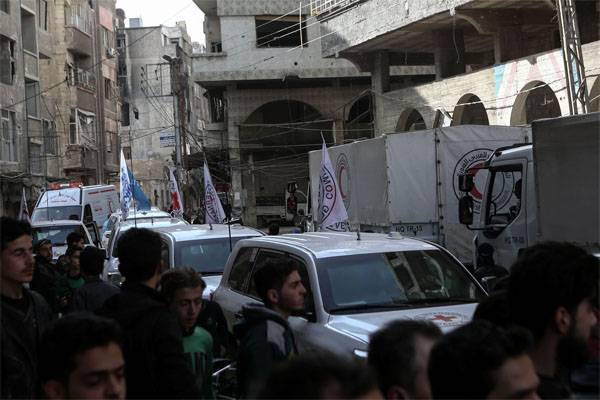 Mass rally in Eastern Gute is held for the first time since the beginning of the terrorist occupation. People took to the streets of the city under the national flags of Syria, demanding that the militants lay down
weapon
and they themselves returned to normal civilian life.
It was noted that the rally did not last long, and the militants, threatening civilians with weapons, dispersed the protesters, accusing those of "complicity in the Assad regime."