In the Eastern Guta, the so-called Serkhzashchischennaya BMP-1 was noticed in the Syrian army, reports
Rossiyskaya Gazeta
.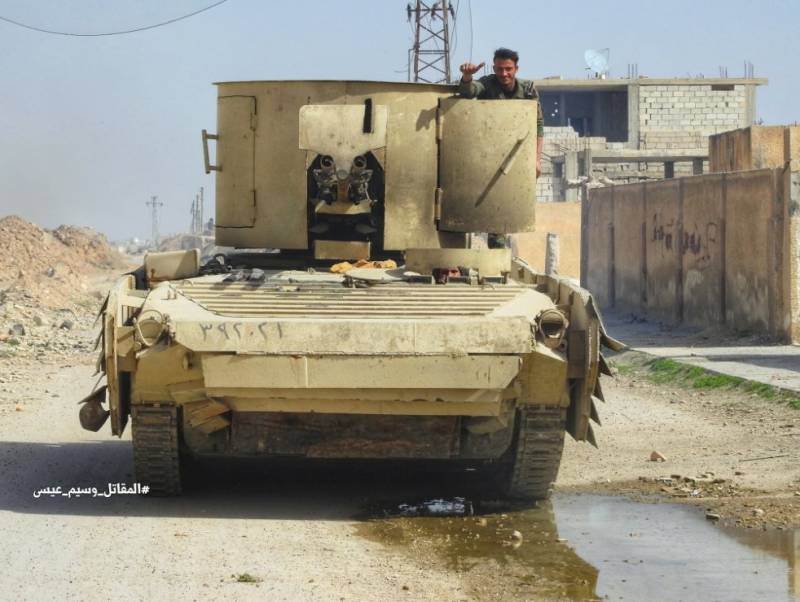 This armored vehicle is in service with the elite 105 brigade of the Republican Guard.
"Judging from the photograph, during the modernization, two major shortcomings of the BMP-1 were eliminated - weak security and insufficient firepower. The first problem has already been solved traditionally for the military equipment of this compound - by installing corner protection. The armored plates were welded at a certain angle in such a way as to create a multi-layer shielding effect, "the author writes.
He recalls that at the beginning the Syrians tested this armor on
tanks
T-72M1: "combat use has shown that the" corners "significantly reduce the effectiveness of not only rocket-propelled grenades, but also ATGMs." A case was noted when "seventy-two" without damage suffered a hit from a Metis ATGM missile.
The BMP-1 and Shilka self-propelled self-propelled guns, which are used in ATS as fire support vehicles, were next in line to install such protection.
In addition, the machine depicted in the photo "instead of a single tower with an 73-mm smoothbore 2А28" Thunder "gun received an armored circular rotation box with a twin-speed 23-ZN-23 gun," is noted in the publication.
According to military experts, the presented modernization is the best of those that were carried out by Syrian craftsmen. It is possible that it will become a truly mass.