Perspective combat equipment "Warrior" will be ahead of military equipment of foreign armies, including the United States, according to a number of indicators, reports
RIA News
a message from Commander-in-Chief of the Land Forces of the Russian Armed Forces Oleg Salyukov.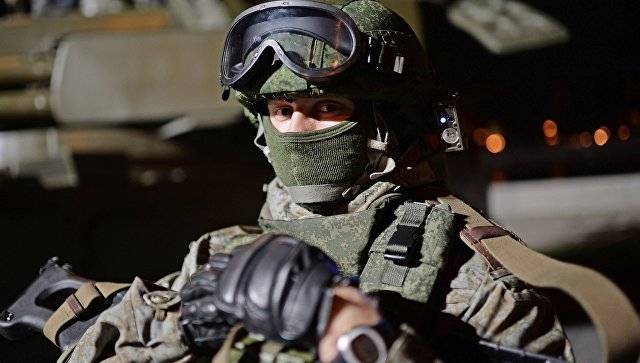 According to the general, in the Ground Forces of the Armed Forces of the Russian Federation, the units are being equipped with combat equipment.
Prospective combat equipment will be ahead (surpass) combat equipment of the armies of foreign states, in particular the United States, on the following indicators: mass, anti-bullet and splinter resistance of personal protective equipment; optical target detection and recognition targets; effective range of shooting samples of small arms and grenade launchers and the power of impact on the target; temperature range of operation of equipment items
told Salyukov.
According to him, the Russian military equipment "is generally at the level of the best foreign analogues, and in terms of protection of the individual armor protection of a soldier significantly surpasses them - with a smaller kilogram of 2,5, it provides 1,3 times more protection of the vital organs of a soldier."
The general recalled that "as part of the controlled operation of the elements of the Warrior kits from July 2016 to October 2017 on the basis of units of the Ground, Airborne, and Marine Corps of the Naval
fleet
and Special Operations Forces, comparative tests of 5,45- and 7,62-mm machine guns developed by Kalashnikov Concern JSC (AK-12, AK-15) and V.A. Plant Degtyareva "(6P67, 6P68)."
According to the results of these tests, it was revealed that the military personnel of the SV, Airborne Forces and the Naval Forces MPs preferred the technical solutions implemented in the AK-12 and AK-15 assault rifles in terms of their design features and performance characteristics. Military personnel of the Special Operations Forces, based on the specifics of their tasks, preferred the 6P67 and 6P68 assault rifles. The leadership of the Ministry of Defense of Russia approved the adoption of these samples of machine guns for service,
he said.
Salyukov also noted that "the perspective outfit provides for the integration of mini- and microrobotics complexes, as well as unmanned aerial vehicles to increase awareness of motorized rifle subunits on the battlefield". In addition, "to enhance the physical capabilities of servicemen in the kits, it is planned to include exoskeletons."
In the near future it will be tested in the units of the Ground Forces,
added the commander in chief.