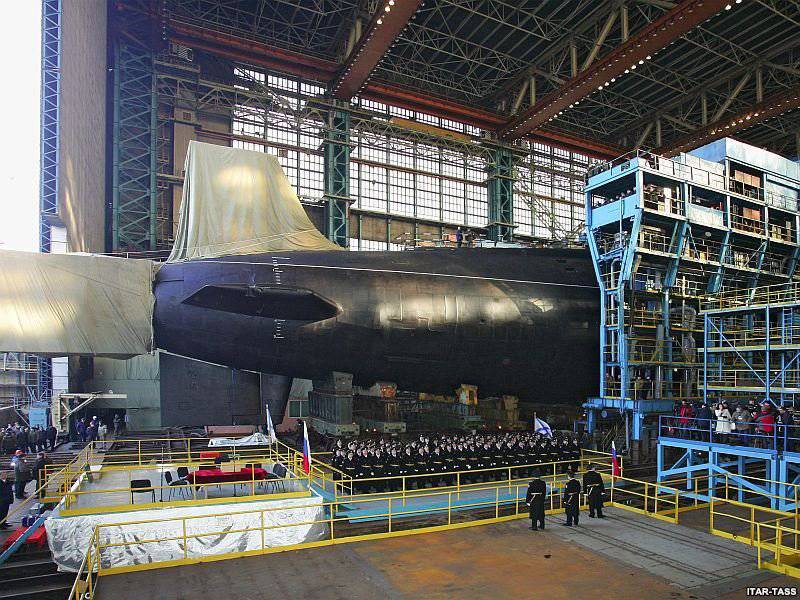 According to the contract of the Ministry of Defense and the United Shipbuilding Corporation (USC), five strategic nuclear submarines (APL) of the Borey-class 955A Pr. With enhanced nuclear missile weapons are to be built. According to ITAR-TASS, citing a source in the Military Industrial Commission (MIC) in the Russian government, signing the contract before the May holidays is possible, provided the military department submits a detailed conclusion on all articles of price proposals previously formulated by industry.
Earlier, on April 14, the head of the military-industrial complex Vice-Premier Dmitry Rogozin sent an order to the Ministry of Defense to provide such an opinion on Borei-class strategic nuclear submarines. Despite the promise to give an answer within a month, until this order is not executed. Upon receipt of the justification in the last decade of April, a meeting of representatives of the USC and the Ministry of Defense, chaired by Dmitry Rogozin, should be held to resolve all issues regarding the conclusion of the state contract.
"This is a contract for the construction of five strategic submarines of the Borey class 955A project with enhanced nuclear missile weapons, at least 50% of the systems and components of which are completely new and have no analogues in the domestic shipbuilding," said a source in the military industrial complex. The contract volume exceeds 100 billion, and the whole series of eight Borey-class submarines, including and the last five, must be built before the end of 2018.
According to the General Staff of the Russian Navy, starting with the fourth serial submarine missile-carrier of 955 Ave. Nicholas St., they will be carried not by 16, but by 20 of Bulava intercontinental ballistic missiles. Now work on the submarine "St. Nicholas" without an official ceremony of laying the ship is already underway, but the money has not yet been received. On the eve of the first deputy minister of defense of Russia Alexander Sukhorukov announced the readiness of the state contract for the construction of "Boreev", which the other day "will be sent to the company for signing".