Unknown vandals desecrated a monument to Soviet soldiers in the capital of Austria. This is a monument in the center of Vienna - on the Schwarzenbergplatz square. It was erected in memory of the liberation of Austria from Nazism. Information about the desecration of the monument to the fallen Soviet soldiers is published by the Russian Embassy in Vienna.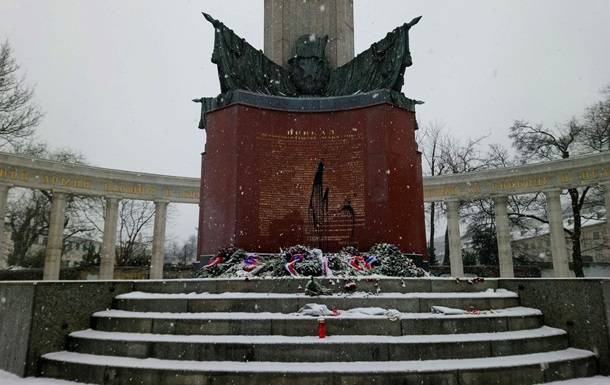 From the statement of representatives of the Russian foreign policy mission in Austria:
Cowardly villains poured the pedestal of the monument with black paint, at the base of which are wreaths and flowers laid on the occasion of Defender of the Fatherland Day. The previous act of vandalism was committed only about two months ago and also under cover of night - January 10 2018. A note of protest was sent to the Austrian Foreign Ministry.
It was noted that the vandals clearly set themselves a provocative task of introducing negative information into Russian-Austrian relations. It is noteworthy that a new act of vandalism (rare, by the way, for Austria) occurred a few days after the visit to Russia of Federal Chancellor of Austria Sebastian Kurtz.
Russian Embassy in Vienna:
It is deeply disappointing that, despite numerous promises and assurances, the Austrian authorities still have not been able to ensure the proper security of the monument, nor install and punish vandals who consistently attack it. More and more facts speak in favor of the fact that acts of vandalism committed in recent years are not impulsive hooligan actions, but targeted destructive actions requiring the appropriate reaction of the Austrian authorities.