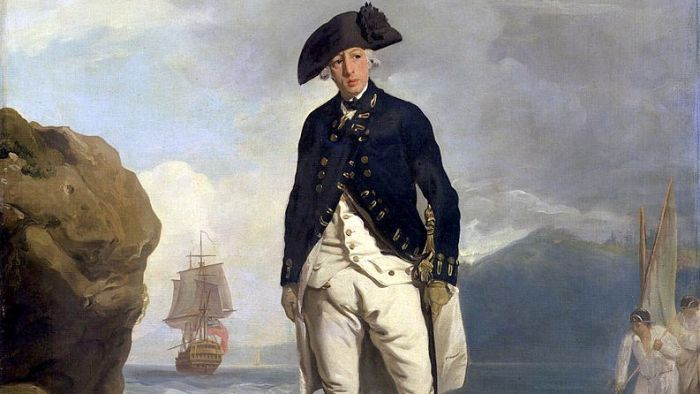 In 1788, the British captain Arthur Phillip entered the bay with a dozen ships and founded the settlement of Sydney Crowe on the coast of the newly opened continent Australia, which later became Sydney. The exploration of Australia has begun. But ... there were no people willing to go to a distant continent in Britain. The shortage of labor and the refusal of America after the war of independence to accept prisoners forced the British government to make a decision: it began to send convicts to Australia.
For decades, yesterday's thugs, hackers, fraudsters of all stripes, prostitutes — thousands of people who had no education and were in conflict with the law — were transported there. The situation began to change only in the 1850 year, when gold deposits were discovered in open-cast mining. When the ships returned to England with eight tons of gold from Australia, the London Times announced in 1852:
"This is California again, but it looks like California on a larger scale."
Reports of gold nuggets found in Australia have stirred up British society. Memories from America were fresh in my memory, where innumerable gold reserves seemed to be discovered in California's 1848. Thousands of adventurers reached there. But only a few managed to get wealth. The vast majority of prospectors, unable to bear the hardships, simply died.
Happiness smiled, seemed to England itself - gold was found in its new colony. The British government immediately began to widely disseminate impressive information about the new "gold rush" - in Australia, the gold is literally under our feet, you just have to dig. Want to become rich? For this you need to enlist in any of the mining companies.
On one of the main streets of London, Pall Mall, in the window of the ship company engaged in the transportation of convicts, gold bars were exhibited. People were crowding around the window from morning to evening. They got acquainted with the conditions of shipment. True, there were knowledgeable people who said that it was not worth going to Australia - this is a giant prison in the ocean, a haven of rapists. People who cannot find a place in British society are sent there. English gentleman among these is not the place.
But these reasonable considerations have little effect on anyone. The words "gold rush" seized the imagination of people. The situation was fueled by two more messages: in 1869, a nugget weighing over 70 kilograms was found in Australia, which was immediately dubbed the "Desired Stranger".
The nugget was found by two prospectors named John Dison and Richard Oates 5 on February 1869 of the year in Moliagoul, Victoria. They stumbled upon it by accident when they pulled out a wagon stuck in mud. Interestingly, when this piece of gold was discovered, there were no scales capable of weighing a nugget of that size, and therefore it was broken into three pieces on the anvil.
Three years later, an even greater success: at Hill-End, Australian workers mined the world's largest gold nugget "Holterman Plate" - 144 on 66 centimeters and weighing 286 kilograms!
It was not a pure piece of gold, but a conglomerate of gold with quartz. After melting down - there was only 93,3 kg of this metal.
Photos nugget immediately appeared in British newspapers. Near the happy faces of the workers. These campaign materials played a role. People queued up to ship companies.
But the situation with convicts in Australia itself was very difficult. They were required to send troops. The contingent arrived poorly managed, reluctantly went to work, they had difficulties. Most of these people from the lower classes owned jargon, were tactless in their behavior and, of course, did not lose their acquired "professional" skills. Only there was no place to apply them. Under escort they went to the mines, under escort they were trained in professions, under escort they returned to the barracks.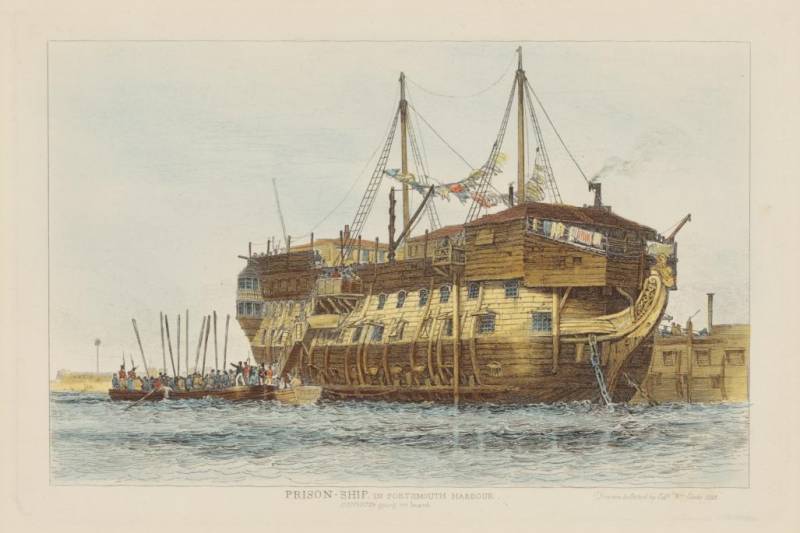 Prison ship in Portsmouth Harbor, prisoners marching on board, Edward William Cook, 1828 Year, National Library of Australia
There were clashes between the miners and the government. The Eureka 1854 uprising of the year in which 30 prospectors and 20 soldiers died. Gold miners demanded the introduction of universal suffrage, the abolition of the property qualification for candidates for members of parliament, the establishment of salaries for members of parliament, etc. Also, gold miners demanded the cancellation of licenses for gold mining.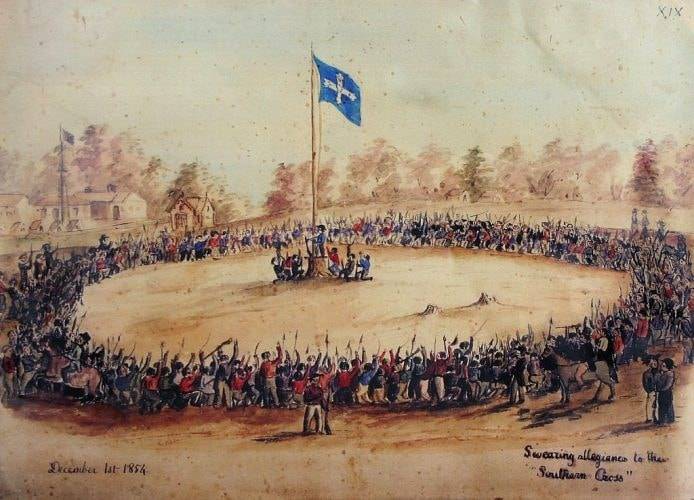 Eureka rebellion. Artist S.Dude
In 1868, there was no need to send criminal elements to Australia. The British government fulfilled its task - people went to this country voluntarily. For the gold. For happiness. And not only the British drove, but the Irish, Germans, French, Chinese. From those who wanted no end. By 1871, Australia's population increased from 540 000 to a whopping 1,7 million. The discovery of gold led to the economic growth of the country, over the years, "hard labor" labor was followed by decades of well-being.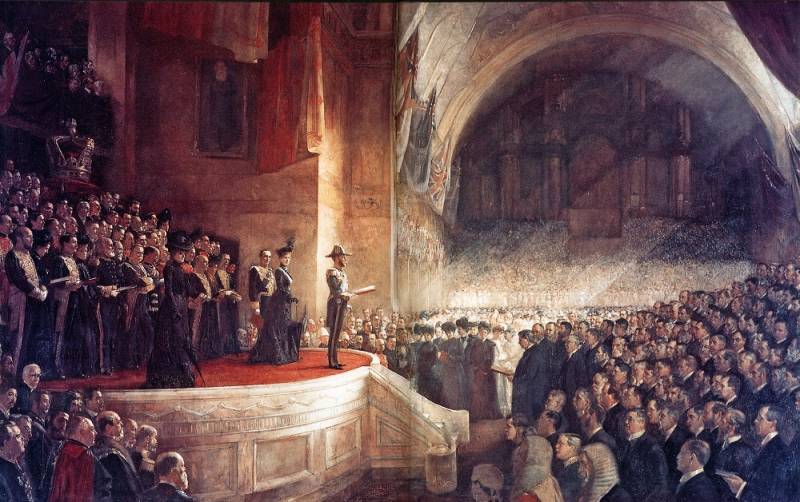 The opening of the Australian Parliament in 1901 year. Artist T. Roberts
In 1901, the Australian Federation was created. Entry into the country by non-Europeans was practically banned. In subsequent years, the Australian boom continued, and reserves of oil, iron, tin, and uranium were found in Cleveland. Australia became a promised country - children, grandchildren and great-grandchildren of former convicts became full-fledged citizens of a prosperous state. They have not forgotten their ancestors, but the tragic
history
not so distant past of the country displayed in museums.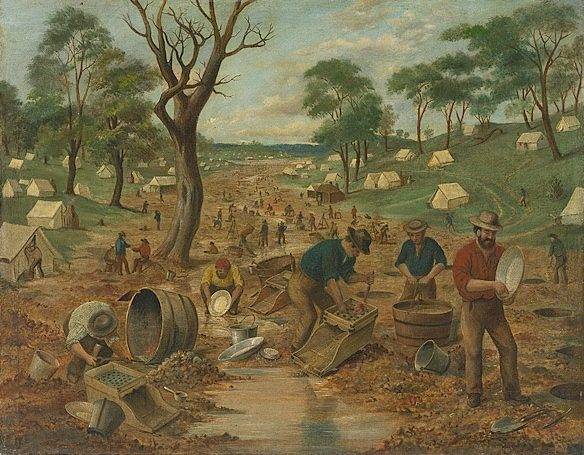 Edwin Stockkeler, Australian Gold Diggers, National Gallery of Australia
Based on:
https://www.goldoz.com.au/australian-gold-rush/
https://www.rutvet.ru/in-samye-bolshie-samorodki-zolota-v-mire-8497.html
"One Hundred Great Secrets of the World" -M.: Veche, 2010.