Turkish media reported that a Turkish court sentenced dozens of officers of the country's armed forces to life imprisonment for participating in an attempted coup d'état. According to the latest data, in the structures of the Turkish Navy alone, 65 officers were sent for life imprisonment.
Under the Turkish penitentiary legislation, both "normal" life imprisonment and life imprisonment with more stringent conditions of detention are provided for. So, for a tougher version of the sentence, as reported by the Turkish TV channel
NTV
, send 47 officers to the navy of Turkey.
Recall that in total in Turkey, about 53 thousands of people were arrested on suspicion of involvement in the attempted coup d'état. Almost 150 thousands of officials lost their positions in various state structures and services.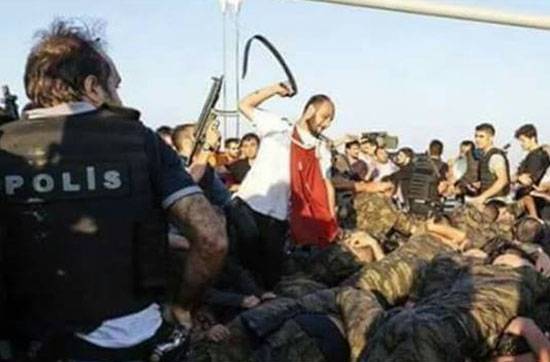 Ankara believes that the main organizer of the attempted coup was the preacher Fethullah Gülen, whose extradition requests are ignored by the United States. Gulen continues to reside in Pennsylvania under political refugee status. He actively criticizes Erdogan for violating the rights and freedoms of Turkish citizens and participating in corruption schemes.