The Canadian company AirShare offered to catch intruder drones using "safe" missiles. At the presentation, the company showed a system of interception of small UAVs called OVERWATCH Interceptor-UX, reports
"Warspot"
with reference to the portal armyrecognition.com.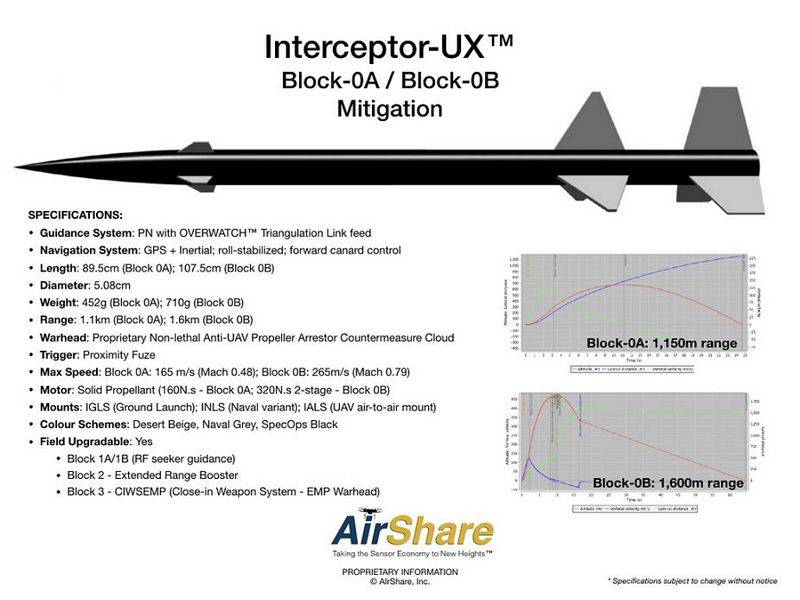 Canadians presented small missiles with a non-standard "combat" part. Instead of a kinetic strike, an explosion, or electronic jammers, the Interceptor-UX hits drones with a network.
When approaching the target, the rocket releases a network in which the drone's screws get entangled. The network is equipped with a parachute, through which the intruder UAV gently lands. At AirShare, they point out that, thanks to the parachute network, Interceptor-UX missiles can be used even in city conditions or at crowded events.
The OVERWATCH Interceptor-UX system can be produced in several versions: infantry, mobile (for installation on vehicles), and also as a stationary system for protecting an object. To date, Canadians offer two types of rockets Block 0A and Block 0В, the working range of which is 1,1 and 1,6 km, respectively. In the future it is planned to release interceptors with a range of up to 4 km.