Previously appeared
news
about the creation of wheeled
tank
on the Boomerang platform, commented on the editor-in-chief of Arsenal of the Fatherland magazine Viktor Murakhovsky, who stated that the new wheeled tank could receive a 125-mm gun from the Sprut-SDM self-propelled anti-tank gun for airborne forces.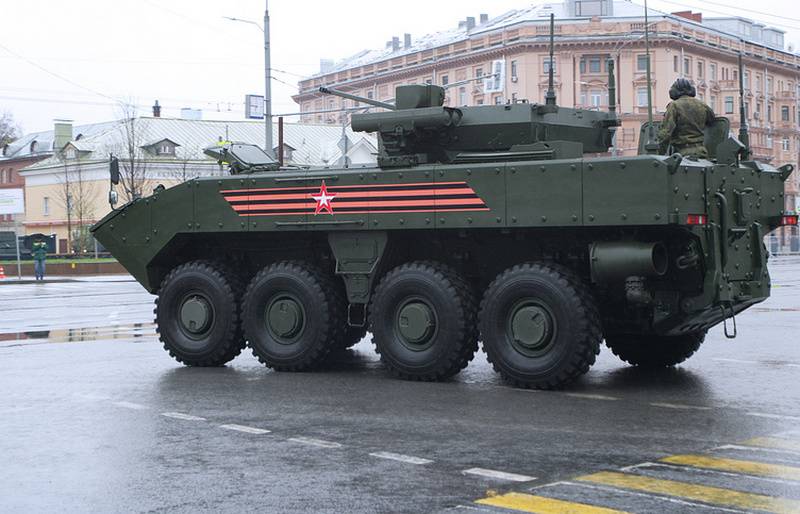 I think it means the combat compartment used on the Sprut-SDM floating self-propelled anti-tank gun, which is made for the Airborne Forces, a combat compartment with an 125-mm gun. The mass-dimensional parameters of this combat compartment quite allow it to be installed on the "Boomerang" - "Sprut" and "Boomerang" are approximately in the same weight category
- said Murakhovsky.
The expert added that "the development work on the integration of this fighting compartment at the Boomerang can be completed in two to three years." Speaking about the classification of the car on this platform in the case of equipping with an 125 mm caliber gun, he noted that "the car can be called a light wheeled tank".
The specialist said that under the Treaty on Conventional Armed Forces in Europe from 1990 (Russia suspended its operation from 2007), wheeled vehicles fall under the definition of a tank if the following criteria are met: the machine cannon must be larger than 75 mm, the weight must exceed 16,5 tons , and the tower should rotate 360 degrees. He added that, by this definition, the Sprut-SDM with a mass of 18 tons is a light tank, and the Boomerang with a new combat compartment will also fall under it, but for the Russian classification this will be unofficial, TASS reports