After five humanitarian pauses in Eastern Gute, frustrated by militants who control this suburb of Damascus, the Syrian military command decided to launch an operation to free the village. Militants who themselves violated the declared truce and prevented civilians from escaping are now trying to accuse the CAA troops of "violating the cease-fire regime" through the Western media. From the series: "And why should we? .."
The Syrian military command has developed an operation, the ultimate goal of which is the complete cleansing of Eastern guts from the terrorists of various groups. It is known that in the suburbs of the Syrian capital there are at least 12 thousand terrorists from "Dzhebhat al-Nusra" (* banned in the Russian Federation), "Jaysh al-Islam" *, etc.
At the first stage of the ground operation, Eastern Gutu is planned to be divided into two parts in order to make it impossible for the largest militant groups to coordinate their activities and receive external assistance, including the supply of ammunition and armaments.
Currently, battles between the CAA and the militants are in the area of ​​settlements Utaya, Neshabiya and Khosh el-Dawahra.
Western media is literally overflowing with materials about the "atrocities of Assad." This suggests that the same training manual works as in the case of the liberation of Aleppo. However, the Syrian government army continues to do its job to liberate the country's territory from the assorted terrorist groups, supported by foreign sponsors and trying to use the civilian population as human shields.
The use of armored vehicles in the city is noteworthy.
Tank
promotion is supported by SAA snipers, which neutralize threats in the form of grenade launchers of militants who are seated in residential city blocks.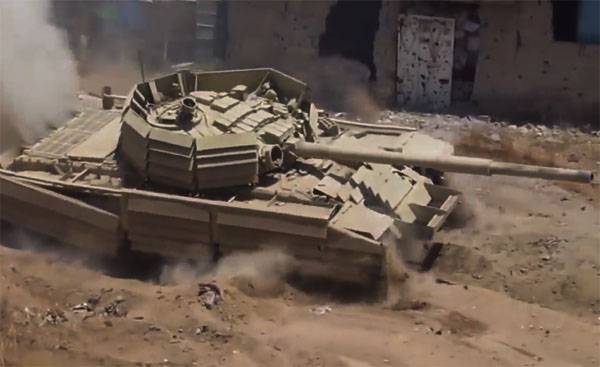 The tanks themselves are sheathed with additional protective elements. At the same time militants also have armored vehicles.