Today the flagship of the Pacific
fleet
missile cruiser Varyag conducted a series of exercises and trainings in naval training ranges, reports
press office
Eastern District.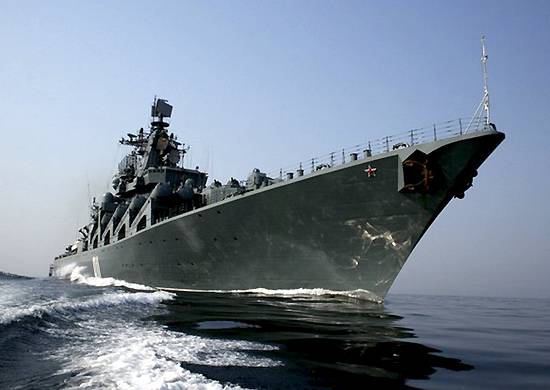 In particular, "the ship, in collaboration with the crews of anti-submarine aircraft IL-38H, which imitated the forces of a conditional enemy, continued tactical training on the organization of air defense at the sea crossing," said in the district.
Today, on the Varyag, a rocket strike was conducted on the main complex to group a conditional enemy's ships, during which the crew's algorithm for using rocket
weapons
,
says release.
In addition, the crew of the cruiser "will carry out the formulation of electronic interference, and when developing tasks for the protection and defense of the ship on an unprotected raid will produce a preventive grenade launcher."
It is reported that, in parallel with the cruiser, other ships were also solving problems at sea. In particular, the small RK "Metel", missile boats "P-14" and "P-18" played the oncoming naval battle and completed the task of organizing air defense.
In turn, the "big assault ship Oslyabya conducted artillery firing at an aerial target, and also discovered and destroyed a naval mine by artillery fire," the press service added.