Soldiers of the Western Military District were involved in anti-terrorism training. Training exercises by servicemen of the Armed Forces of the Russian Federation were practiced on the territory of the Leningrad Region. From the message
press service
military district:
In a separate motorized rifle brigade of the Western Military District (ZVO), stationed in the Leningrad Region, a training was held to repel the attack of a conditional enemy on military targets. According to the training plan, a conditional terrorist group conducted reconnaissance of approaches to the communications center in order to capture a military facility and disable all existing lines.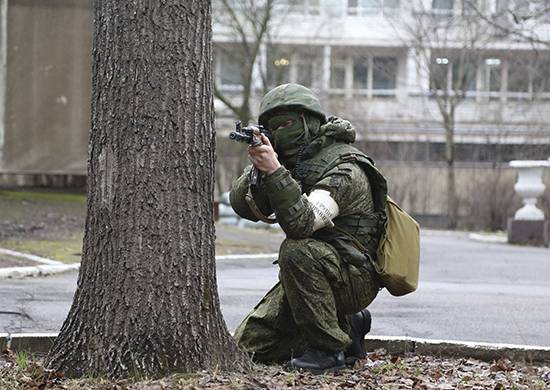 In the exercise scenario, the diversionary attack of conditional terrorists at the checkpoint of a military unit was listed.
From the report:
The first group of the conditional enemy in order to distract the maneuver fired at the checkpoint of the military unit, while the second group attempted to infiltrate the brigade after breaking the fence.
The unit on duty received an alarm
weapon
and, having taken defense, proceeded to repel the attack. At this time, the duty officer on the part notified the anti-terror unit. The arrived tactical group surrounded and destroyed the conditional enemy.
It is reported that in the course of the training the following issues were worked out: the neutralization of explosive devices, as well as the work on rendering medical aid to the injured.