In Italy, voting in parliamentary elections was completed. After the counting of approximately 20% of votes, the "Forward, Italy!" Coalition is leading, led by former Prime Minister Silvio Berlusconi. The Berlusconi party bloc has about 36% votes.
The "Five Stars" movement (the party founded by the comedian Beppe Grillo, popular in the country) rushes to the second place, which was not predicted by sociologists and political scientists in Italy. The representatives of the movement about 28% of votes.
The Democratic Party, which today is the party of power in Italy, is still gaining about 23% of the vote, taking only third place.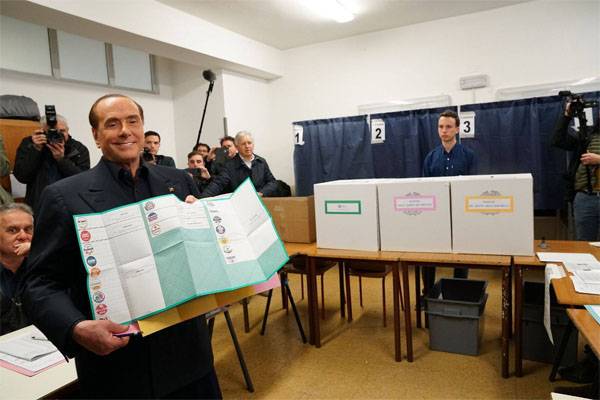 The situation after the counting of all votes cast by the Italians, as noted, is fundamentally the balance of forces that has developed by this minute will not change.
Thus, the Silvio Berlusconi party bloc will receive seats in the Chamber of Deputies (lower house of the Italian Parliament) to 250.
The Five Stars alliance is around 200, and the Democratic Coalition is around 130.
In the Chamber of Deputies of Italy - 630 seats. Today, the 301 chair is occupied by the representatives of the Democratic Party, and in "Forward, Italy!" Only the 51 chair. It turns out that Berlusconi's party association improved its position by about 5.
In multi-member districts, where the vote was held by a proportional system, the leaders and the "League" Matteo Salvini.