So, in a possible future war, what type of footwear will be most prevalent: kirzac or berets? Of course, in itself, such an approach to the question now looks strange and may seem to many not even controversial, but simply inappropriate. They say that the army has moved to the berets, the berets are now everywhere and everywhere, and the question, it would seem, is not here.
At the same time, it must be said at once that this question depends crucially on the nature, scale and duration of a future war. From whether it will be short and local, or there will be a protracted world massacre involving many millions of armies, it just depends on what type of footwear will prevail in the army.
Shoes in local war
For the war is relatively small and local, in principle, there is no difference what kind of shoes used by the opposing parties. In the military-economic sense, equipping troops for a local war uses the shoes that are available, or the one that can be obtained. For example, in the Indochina War, the American army was shod with berets, and they were supplied to the allies - the armies of South Vietnam and Lonnol Kampuchea. Their opponents: the North Vietnamese army and the Khmer Rouge fought mostly in slippers, and only at the end of the war, having got hold of trophies, began to wear American shoes. Then, already clutching between themselves, the Vietnamese and the Red Khmers wore American shoes and again switched to rubber slippers. Only at the end of a long war in Cambodia against the Khmer Rouge, the Vietnamese army had an interesting look of military shoes, something like "military sneakers," canvas sneakers with lacing, the sole of which was made from rubber vulcanized coating. Obviously local, Vietnamese production.
Vietnamese corporal (the title of Ha Chi, roughly corresponding to corporal or corporal) in the "military sneakers." Photo taken in Cambodia in 1989, on tank flag of transition state Cambodia
In local wars, relatively small contingents are involved, from 4-5 thousand to 200-250 thousand people. Small and sluggish wars, like the war in Afghanistan, usually involve 20-30 thousands of people on each side. Larger regional wars, such as the war in Yugoslavia or the war in Syria, involve about 200 in thousands of people from each side. It is unlikely that it will be possible to establish exact figures in each case, but special accuracy is not needed here, and the order of numbers is important.
So, the average contingent in a small local war will wear out about 60 thousands of pairs of shoes per year (if we accept delivery twice a year; without taking into account trophies and robbery, which cannot be taken into account), and an average contingent in a larger regional war will wear out 400 thousand pairs of shoes. This is very little compared to the scale of shoe production in the world. In 2016, 22 billions of shoes were produced (including 14,6 billions in China). Of this amount, 2,7 billion were demolished in China, 1,9 billion in the US (this is the most shod country in the world - 7 pairs of shoes per person per year), 1,6 billion in India, and 1,6 billion in the European Union. It is clearly seen that, with such capacities, shod armies involved in local and regional conflicts are not particularly difficult.
The average shoe factory is quite capable of producing up to 2-3 million pairs of shoes per year. Shoe factories often make contract lots for 50-100 thousands of pairs, in accordance with the requirements of the buyer. In China, India and Pakistan, small, semi-handicraft production of shoes in small batches and in cash is very well developed. So, there are the widest possibilities for supplying shoes to the participants of local wars. Depending on the financial possibilities of shoes you can also order any, both cheap and simple, and expensive.
When there is plenty to choose from, then, of course, in the first place will be more individually comfortable shoes, as well as more fashionable shoes. Of course, fashion has an impact on military equipment, as discussed in the first part of the article. For the warring parties in a local war, it is very dangerous to neglect the military fashion, since the "unsupervised" army can lose its reputation, lose support and suffer defeat in the long run. It seems that this is not the last consideration, with which the army and troops in various local wars wear shoes or boots. So brutal, so steeper, and so on.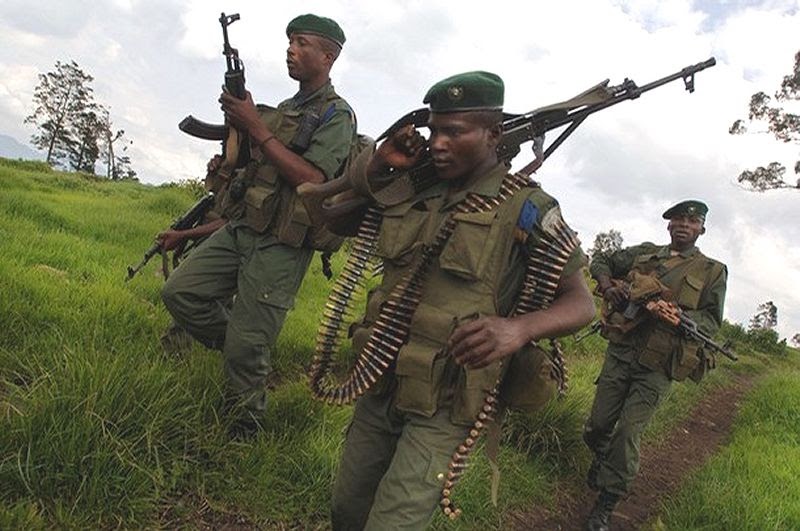 Paphos - too weapon. Somewhere in the Congo
Polls in kirzachi
But still, I personally think that in the future we are not waiting for a series of small and local clashes, but a big war, global in scale, which will involve key military powers, including, of course, Russia. There are a number of reasons for this, but I will not describe them in detail now so as not to occupy space. I will cite only a thesis, not so much evidence as illustrative property. Chains of small wars, one way or another, led to a big world war. War is a consequence of sharp contradictions, and minor skirmishes can not always resolve these contradictions.
Any big war, as can be seen from the example of the First and Second World Wars, inevitably leads to the following economic consequences. First, the absolute decline in domestic production. Secondly, a sharp reduction in foreign trade, to the point of almost complete cessation (but such cases were rarely; basically, war is the time to trade). In addition to the reduction, foreign trade is segmented, that is, trade ties with the enemy are completely broken. These two factors lead to a shortage of goods and impoverishment of the population, both in warring and in neutral countries.
For Russia in the conditions of war, this will most likely bring a sharp reduction in footwear imports. Now, of the order of 300 million pairs consumed annually, only 50-80 million pairs are produced domestically (including about 16,5 million pairs of military shoes, which is enough for 8 million security forces). China - one of the main participants in the likely big war - is, of course, the first thing to do without importing raw materials. The naval blockade is the first item in all the well-known US plans in the event of hostilities against China. In a war, China will have to not only transfer a significant part of its economy to military production, but also reduce the export of goods, including footwear.
For the big war, now we can offer different scenarios (including the scenario of the war of Russia against NATO, described in my book Russia against NATO. Analysis of probable war), however, the general situation, it seems, will be that Russia will remain without imported shoes, and somewhere in six months after the start of the war (most likely in the winter), there will be an acute and extremely intolerable shortage of shoes for the civilian sector. We have more or less established military footwear production, and we must assume that it has reserves to hold on for a year or a year and a half of war, and there must also be some mobilization reserves. But the population will not shod in anything! That's just a kersey boot - this is just the solution to this acute shortage of civilian shoes. Of course, to achieve production of the order of 300 million pairs of kirzachs in a year is a very difficult task, but it may be necessary. The population must work for war, and without boots it is difficult to work.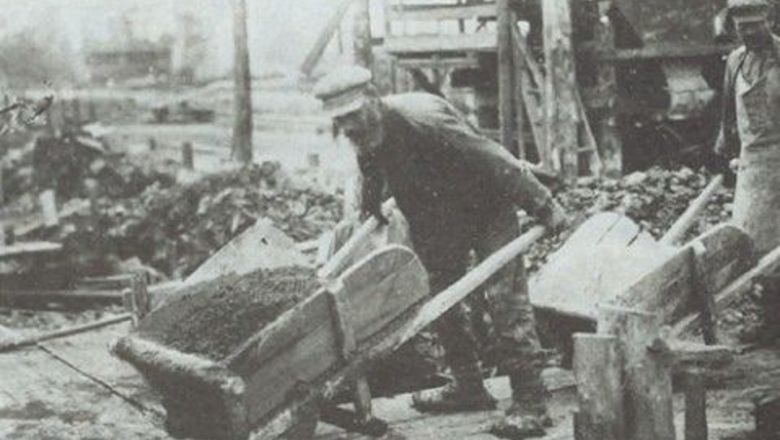 You can work without boots, but it is hardly convenient
Further. Most likely, the military operations will be conducted in the Baltic States, in Ukraine, in the North Caucasus, as well as in the Far East, and, probably, in Central Asia. It is unlikely that our army will conduct large-scale battles in the desert or in the mountains, and in these theaters the kirzac has once again proved its advantage over the boot.
In addition, the boots need summer and winter insulated, while a kirzac can also be winter shoes, if you take the boots a size larger, wind thick footcloths. Technologically, this is a significant relief in the production of footwear and a reduction in the consumption of artificial wool, which is still used to make clothing.
In a big war, there will also be a factor of automobilization, which in its scale exceeds the automobilization of the Second World War. I think that tens of millions of cars will be mobilized, without much exaggeration, not only in the army, but also in the economy, as well as for transportation in the interests of the army. Now it has become quite possible.
But at the same time, the experience of the Second World War, and some modern examples, such as the long-suffering route Never-Yakutsk, show that the passage of large masses of wheeled and tracked vehicles turn almost any road into a mess of dirt, in which even ATVs drown. On such roads in the shoes are not particularly something and you will pass, we need boots, at least tarpaulin. Cases in which troops stuck in impassable mud were far from uncommon in the last great war, and certainly would not be uncommon in the future big war.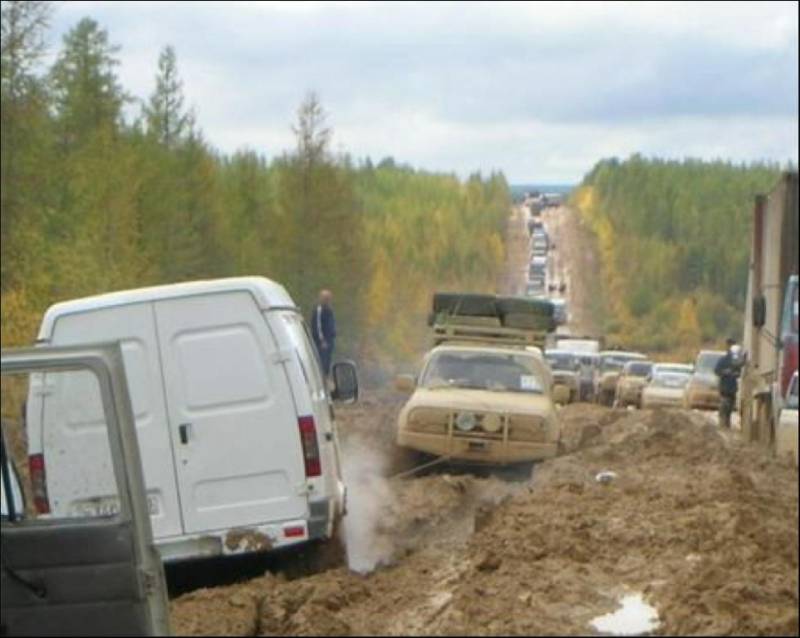 The famous road to Yakutsk, broken by vehicles. Approximately the same will look and the road of the future big war
Finally, we must not forget that any big war is closely connected with the performance of numerous heavy work: sapper, construction, road, which are produced by both troops and civilian organizations or paramilitary structures, such as working battalions. For heavy work, shoes are needed, and there is also nothing better than a kirzach, especially in the absence of imported shoes.
This is the analysis of a likely big war: polls in kirzacs. Only this type of footwear is suitable for the conditions of the most probable theaters of this likely big war, suitable for the army, for working battalions and for wide circles of the population. As soon as a big war breaks out, a massive transition to a kirzach will be inevitable.