The situation in Kiev and in Ukraine as a whole is shaped up in such a way that it is necessary for people to mobilize in order to finally finish off "this bargaining power,"
RIA News
Statement by the former President of Georgia, Mikhail Saakashvili.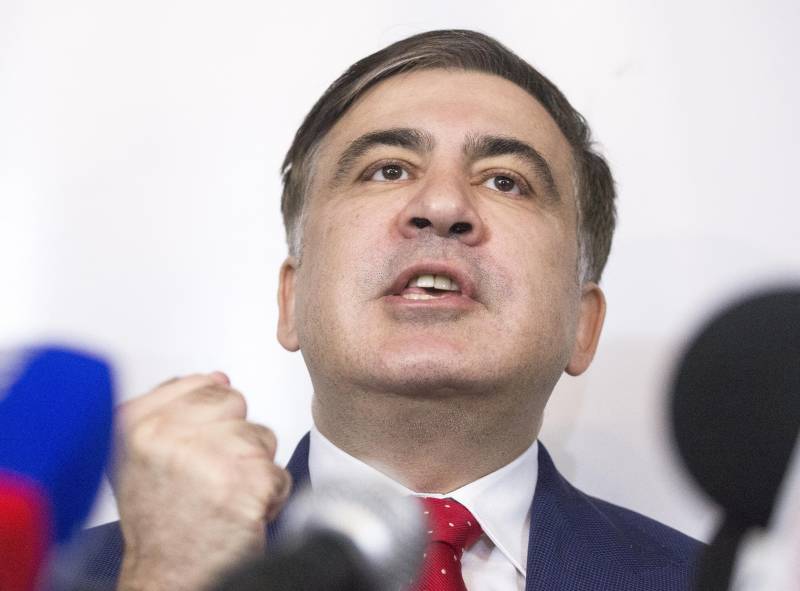 Our enemies are weaker than ever and we need to finish them,
Saakashvili wrote on Twitter.
In addition, he posted a video message on his page, in which he commented on the harsh dispersal of his associates, who were meeting at the walls of the Verkhovna Rada.
This brutality against peaceful protest is not only unjustified, but it also clearly shows the intentions of (President Petro) Poroshenko and (Interior Minister Arsen) Avakov. They want to show that they are strong. This is from the same opera that I was dragged by my hair, thrown out of the country, like they were treated with veterans and disagreeable people in the regions,
said the politician.
According to him, this behavior of the Kiev authorities demonstrate that nothing has changed in the country since 2014.
Now it is painfully clear to everyone that after the Maidan, the Ukrainian people were deceived,
Saakashvili said.
We will remind, on the eve of the tent camp near the building of the Verkhovna Rada there were clashes between police and protesters. 13 demonstrators were injured, 111 people were detained. Campground rally was dismantled.
The police explained the harshness of their actions by the fact that "grenades and other dangerous things were found in the tents," and the protesters themselves "tried to thwart the procedural actions and put up open resistance" to law enforcement officers.