Calling to disband the self-proclaimed republics of Donbass, US Special Representative for Ukraine Kurt Volker confuses the cause with the investigation, reports
RIA News
Statement by the representative of the LC in the political subgroup of Rodion Miroshnik.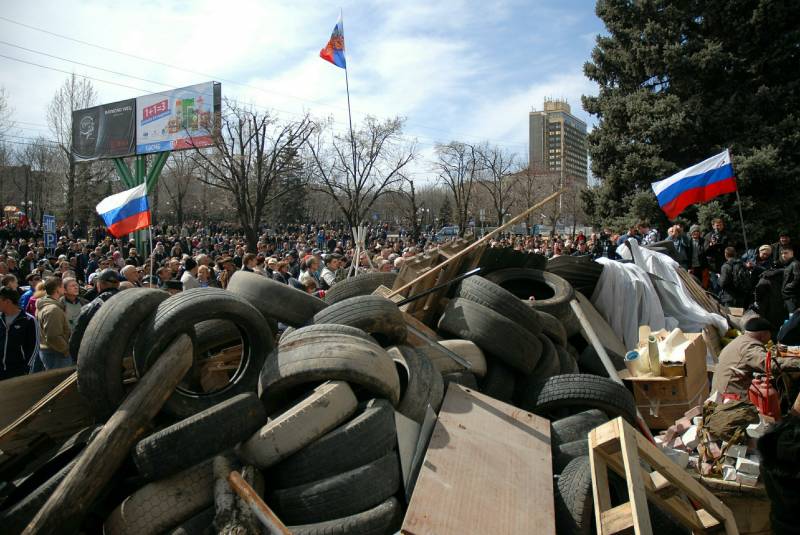 Lugansk, April 2014 of the year.
The LPR and the DPR are both de facto party to the conflict and party to the negotiations, they are elected as a result of the direct will of the residents of Donbass and represent their interests. Stating the need to disband the republics, Volker confuses cause and effect, apparently because the US had a direct relationship to the coup in Kiev and could not criticize it, and the appearance of the republics was a reaction of the residents of Lugansk and Donetsk to the mayhem that had happened in Kiev,
Miroshnik told the agency.
In his opinion, one should begin negotiations on a settlement not from "dissolving", but from building a dialogue "with the government that exists de facto and is supported by the population".
Otherwise, this is another flirting with the Ukrainian radicals, which cannot lead to any adequate results and has nothing to do with resolving the conflict,
concluded Miroshnik.
Earlier, Volker said that the Minsk agreements are aimed "at restoring the sovereignty and territorial integrity of Ukraine," so the self-proclaimed Donetsk and Lugansk republics should be disbanded.