3 March 2018 celebrates the 75 anniversary of the liberation of Rzhev from the Nazi invaders. The city held a rally dedicated to the significant date. The rally participants gathered near the stele "Rzhev - the city of military glory." Soldiers of the Rzhevsky garrison, cadets, cadets and representatives of the military-patriotic clubs marched in a solemn march under the banner of Victory.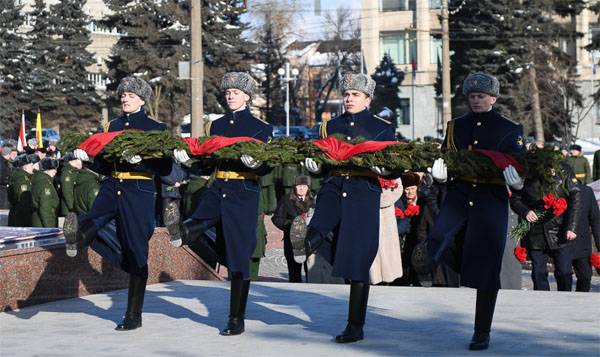 In honor of the 75 anniversary of the liberation of the city, the Rzhev air defense garrison holds an open door. Today, the city hosts an interregional festival of military and patriotic songs "This song, my friend, yours and mine." In 20: 00 is expected to celebrate fireworks in Rzhev.
Press office
the government of the Tver region quoted a veteran of World War II, Eugene Books, expressed during the solemn meeting:
Rzhev is Tver's Stalingrad. We pay tribute and gratitude to all the fallen soldiers who defended the city, and those who restored it after the war.
Governor of the Tver region Igor Rudenya:
Today is a special day in
stories
cities of military glory Rzhev. Seventeen difficult months of the war here decided the fate of our homeland. Our soldiers, partisans and civilians stood to death for every inch of our land. With unprecedented fortitude, sacrifice, and fortitude, they blocked the path of the fascist army to Moscow. The fighting near Rzhev was of particular importance for breaking the blockade of Leningrad and for the victory at Stalingrad. We heartily thank the war veterans, home front workers for the great feat for the freedom and independence of our Motherland.
For reference: Fights near Rzhev continued from January 1942 to March 1943. In the Battle of Rzhev great forces came together: about 1,4 million - Soviet troops, about 1,1 million - Nazi formations. According to official data, the irretrievable Soviet losses near Rzhev amounted to about 390 thousand, the irretrievable losses of the German fascist troops still have not found a definite estimate among historians - from 370 to 500 with more than thousands. The operation to liberate Rzhev ended with the liquidation of the Rzhev-Vyazemskiy bulge and the regrouping of the Soviet troops for further offensive.