Russian President Vladimir Putin sent a telegram to his Bulgarian counterpart on the occasion of the 140 anniversary of the liberation of Bulgaria from Ottoman rule. From the congratulatory telegram addressed to Rumen Radev to the entire Bulgarian people:
Please accept my sincere congratulations on the occasion of a significant date - the 140 anniversary of the liberation of Bulgaria from the Ottoman yoke.
These days we remember the exploits of the Russian soldiers and Bulgarian militias, who fought shoulder to shoulder at Shipka and under Plevna. Thanks to their courage, resilience and dedication, the ancient Bulgarian statehood was restored.
I am sure that the general
historical
traditions, strong bonds of friendship and mutual assistance, cultural and spiritual closeness will continue to serve as a reliable basis for the development of multifaceted cooperation between our countries.
I sincerely wish you good health and success, and the fraternal people of Bulgaria - well-being and prosperity.
The liberation of Bulgaria from the Ottoman yoke ended simultaneously with the end of the Russian-Turkish war of the 1877-1878 years. Together with the Russian army, the Bulgarian militia opposed the Turkish troops. In the course of the war, Bulgarian volunteers joined the detachments under the command of Russian General Nikolai Stoletov.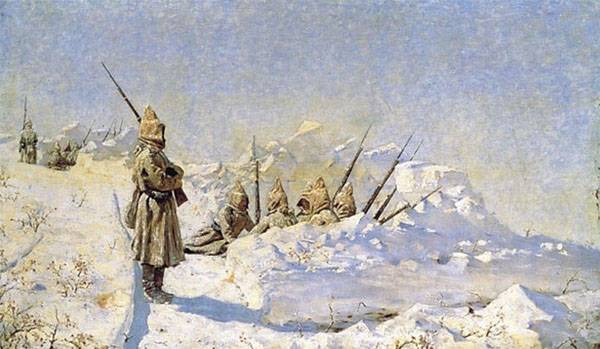 Russian troops on the Shipka Pass
Army Osman Pasha folded
weapons
in Pleven 10 December 1877 of the year. By February, 1878, the Russian troops under the command of Crown Prince Alexander entered Razgrad, Osman Bazar and Bazardzhik.
3 March 1878 was signed the San Stefano peace treaty between Russia and the Ottoman Empire. This day is the official date for the liberation of the Balkan peoples from Ottoman rule. In Bulgaria it is one of the national holidays - the holiday of the restoration of the Bulgarian statehood.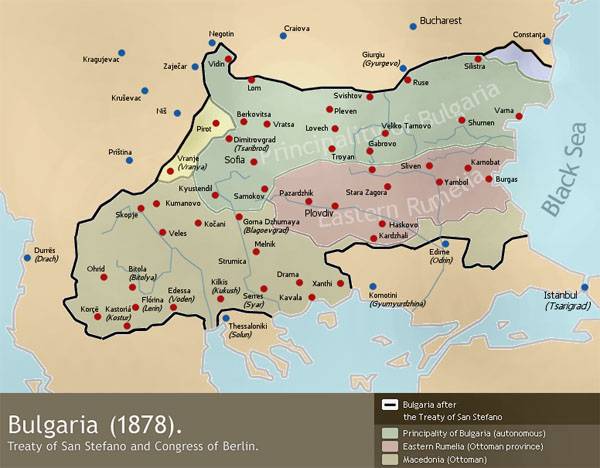 The Bulgarian borders after the parties signed the San Stefano peace treaty.