At NATO headquarters, they decided not to stay aside from the comments on the message of the President of Russia to the Federal Assembly. In general, judging by the ratings of speeches by politicians since the beginning of 2018, the message of Vladimir Putin became the most quoted in the world. The statements of the President of the Russian Federation about the launching of a hypersonic test on the combat duty of the Armed Forces of the Russian Federation caused the greatest response.
weapons
, as well as other advanced developments in the field of armaments.
Recall that Vladimir Putin, in his message, noted that Russia would view the deployment of US nuclear (tactical) warheads in non-nuclear NATO countries as a direct threat of a nuclear attack with all the ensuing consequences.
A spokeswoman for NATO, Oana Lungesku, said today that "Russia's statements are threatening in nature" and are "unacceptable and counterproductive."
Lungescu:
Our missile defense system is designed to respond to attacks from outside Europe and North America. It is not directed against Russia.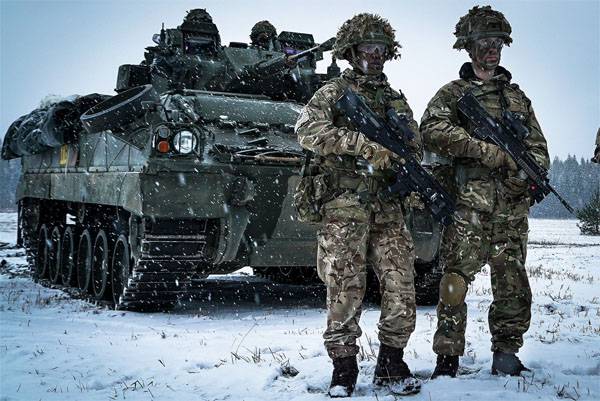 NATO contingent in Estonia
This is not the first such statement, which, like all previous ones, is not supported by any official evidence of the direction of the American missile defense system against the Russian Federation.
Lungescu:
NATO has to implement a dual approach towards Russia because of its aggressive actions in Ukraine. We are pursuing a policy of containment, combining it with defense and dialogue.
And why, in this case, does the dialogue between NATO and Russia resemble a monologue of the USA? .. And where is the limit to NATO expansion?