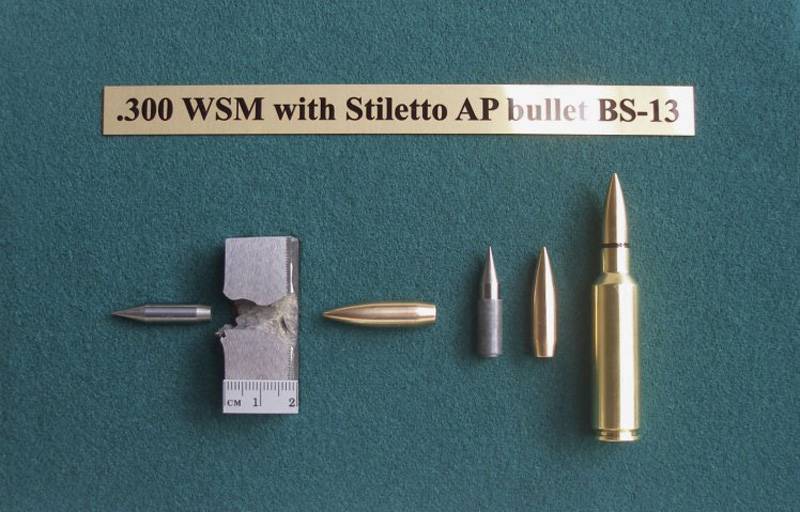 The photo shows a hole punched by a Stiletto bullet in a steel sheet. Also shown is the length of a tungsten core. During the tests, the cartridge retained its sharp-pointed shape after penetrating the armor.
Armor-piercing cartridges manufactured by the British company Stiletto Systems, which passed several test programs according to NATO standards, are in high demand among Ukrainian special forces operating in the Donbas.
One of the test centers was the Belgian Royal Military Academy (Ecole royale militaire), which issued an opinion in the 2014 year, which said that Stiletto ammunition can have the same effect as the popular FN P80 and CBC armor-piercing cartridges, but they need less the initial speed is 334,7 m / s, whereas the cartridges FN P80 and CBC AR develop 959 m / s and 928 m / s, respectively.
Further work was carried out at Cranfield University in the UK. According to the results of these tests, it was concluded that Stiletto's 13 and 14 bullets were able to penetrate 15 mm and 17 mm thick sheets from HARDOX 450 hardened steel to 454HB hardness from 208 and 164 meters respectively. Alexander Kalachev, chief engineer of the Stiletto company, said that the bullets retain their shape after piercing armor.
Recent trials have been conducted in 2017, the Ukrainian Central Research Institute of the arms, in the process of comparing bullets caliber Stiletto 7.62x53.3 mm (.300 WSM; .300 Winchester Short Magnum) and 5.45x39 mm cartridge 12.7x108 mm armor-piercing incendiary tracer bullet BZT-44 and a mm 7.62x54 cartridge with an B-32 armor-piercing incendiary bullet. The target for the BZT-44 armor piercing bullet was ARMSTAL 500 armor plate 20,5 mm thick. The bullet B-32 was shot at a sheet of ARMOX 500 steel with a thickness of 14 mm. The BZT-44 bullet stuck in the 20,5-mm plate, while the 7.62-mm Stiletto bullet pierced it completely. The B-32 bullet could not penetrate the 14.5-mm plate, while the Stiletto 5,45-mm bullet completely pierced it. All shooting was carried out from a distance of 220 meters.
Another comparison. Armor-piercing cartridge RUAG .300 Win Mag Swiss P has a 12,7 gram bullet with a tungsten carbide core. With a pressure in the chamber of the order of 4300 bar, the bullet develops an initial speed of 855 m / s and can pierce a sheet of steel with a thickness of 12 mm and two layers of Kevlar from a distance of 250 meters. However, with the same pressure in the chamber 4300 bar, the bullet of the Stiletto 7.62x51 mm armor-piercing cartridge with a brass sleeve develops a maximum initial speed of 830 m / s. The bullet is able to pierce an armor plate 15 mm thick with a Brinell hardness 450HB from a distance of 600 meters. From a distance of 100 meters, this bullet completely pierces the armor with a hardness of 450НВ thickness 20,5 mm; however, comparative statistics on this parameter is not available for the .300 Win Swiss P cartridge.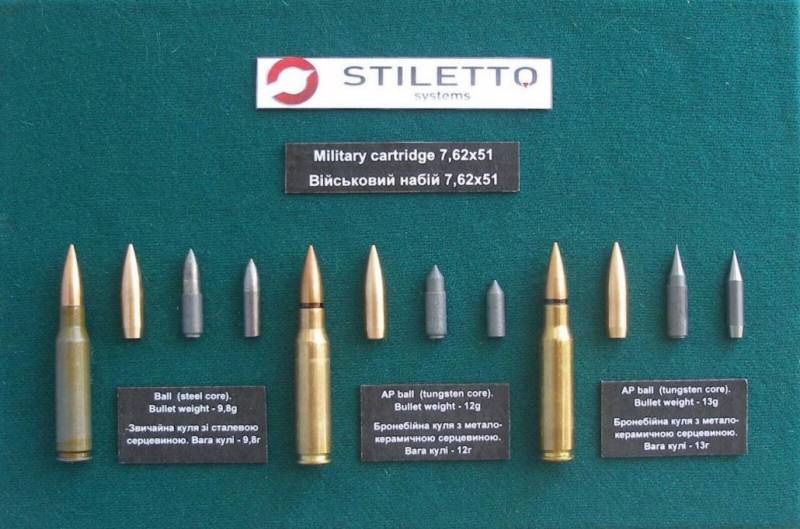 Various configurations of Stiletto cartridges; the three bullets on the right with a metal-ceramic core of 13 grams of gram have armor penetration comparable to the armor penetration of 12.7-mm bullets
Stiletto is a relatively new player in the ammunition market and therefore does not hide the test results, as well as armor plates used. Kalachev believes that the difference between Stiletto and its competitors lies in the software used in the design process. "Each bullet is designed for penetration of armor of a certain thickness, after which its dimensions are determined programmatically. Each cermet core (tungsten carbide) is designed to completely fill the brass sleeve, and where possible the core must be at least the same length as the thickness of the armor it pierces. " This approach is different from the approach of many competitors who produce armored piercing cartridges with a tungsten core of substantially smaller size.
Kalachev also noted that Stiletto's cartridges can be either bimetallic or brass, and their effectiveness is the same. The first cartridge creates pressure 2900 bar, and the second from 3300 to 4000 bar. He also noted that bullet bullets were fired from the brass sleeves, which were used several times and, despite this, showed the same characteristics as the new brass sleeves. According to Stiletto, its ammunition is manufactured according to NATO standards and can be manufactured on standard production equipment.
Stiletto cartridges are often compared with larger-caliber cartridges in order to demonstrate how larger-caliber weapons can be replaced with cheaper and more user-friendly options. A typical large-caliber sniper rifle, for example, 12,7-mm M107 (Barret M82), is able to penetrate 20 mm of armor from a distance of 100 meters and weighs 13 kg, and cartridges to it cost 10 dollars per piece.
The same armor-piercing effect can be achieved by replacing it with a standard 7,62 mm caliber sniper rifle or even an assault rifle weighing just 6 kg, while Stiletto cartridges cost a dollar apiece. In addition, an average infantryman armed with an 5,45-mm AK-74 assault rifle can get ammunition that can penetrate armor 14 mm thick from a distance of 220 meters. This is enough to pierce the body of an armored personnel carrier of Russian production or disable the power unit of the vehicle.
Stiletto regularly demonstrates the capabilities of its ammunition, capable of penetrating from
weapons
small caliber modern body armor and thicker armor plates. With these munitions, the future soldier can be more effective in fighting armored targets without resorting to large-caliber weapons or artillery.
Materials used: Alex Alexeev
www.shephardmedia.com
www.stiletto.uk.com
defence-blog.com
www.thefirearmblog.com
www.wikipedia.org