The former president of Ukraine, Viktor Yanukovych, convened a press conference at which he decided to tell new details about the involvement of the current Ukrainian elites in the shootings on the Maidan and about his vision of the situation in Ukraine.
One of the issues that was discussed during the press conference is associated with the name of Paul Manafort and meetings with the President of the Russian Federation. Yanukovych confirmed that Manafort was a freelance adviser to the president. At the same time, Yanukovych noted that the "Party of Regions" was doing everything with him.
Yanukovych (ether
TASS
):
After I left Ukraine, I did not see or hear Paul Manafort. As for my discussions with Vladimir Putin. I have met President Putin several times in these 4 years. I am more in contact with his apparatus. With President Putin, my situation in this regard is not simple. First, there is no need. Secondly, it is a very busy person. If there is any opportunity to promote our proposals for a peace agreement, it will be possible to meet. If this will be necessary.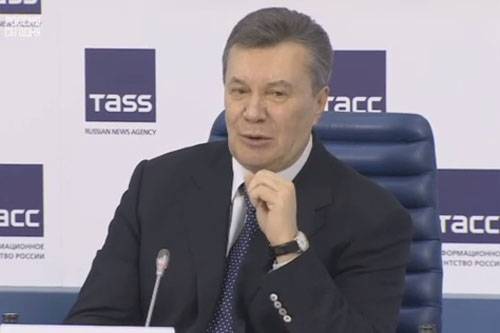 112 channel Ukraine:
At whose expense do you have security here? Comment on the situation with the confiscated 1,5 billion dollars. As well as the situation with the citizenship of the Russian Federation.
Yanukovych:
I am visiting Russia. I must respect the owner. I have a question for you. Why are you still not achieve that the government informed the population that it was in court. 1,5 billion is a huge amount. Where are these accounts. Any witness in Kramatorsk said something? Where is the money? In some banks, offshore. I'll find out about it from you. I know less than you on these issues. The time will come, and they will respond to these adventures. This is the money of depositors of Ukraine, and this money was taken away from them.
On the question of citizenship, Yanukovych clearly did not answer.
Ukrainian media:
You wrote an appeal to the President of Russia about the entry of Russian troops in Ukraine. Are you asking Putin to withdraw Russian troops from the territory of Ukraine today?
Yanukovych:
Appeal to Putin, I wrote 1 March in Rostov. We sent this appeal (which was later made public at the UN Security Council) to the Foreign Ministry. I am not the only one who made this decision. We consulted for a long time. We had to find the right position. The basis is an agreement on friendship and cooperation between Ukraine and Russia. On this basis, the appeal was written.