The younger brother of the famous Soviet floating
tank
PT-76 - Chinese Type 63 - is still in service with the Vietnam People's Army (VNA), reports
Rossiyskaya Gazeta
.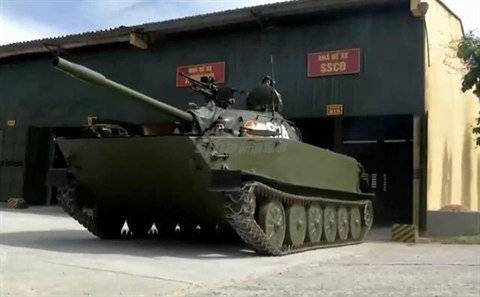 Deliveries were made in 1970 year as an aid to the "brotherly people fighting against American imperialism." In total, the Vietnamese received more than 200 machines from China.
"These tanks are based on the PT-76. They are distinguished by their increased weight to 18 and another tower with an 85-mm gun. Engine power is 500 HP The maximum speed is 64 km / h over land and 12 km / h afloat. Power reserve - 500 km. Armor thickness - from 10 to 14 mm. Crew - 3 person. Machines were actively used in battles with both the forces of the invaders and the puppet army of South Vietnam, "the publication says.
Type 63, along with medium tanks T-54 and Type 59, took part in the final operation of a multi-year war - the storming of Saigon.
The exact number of "sixty-third", continuing today to serve in the Vietnamese army, is unknown. They talk about 200 units, but military experts believe this number is clearly overstated.
However, "given Vietnamese realities, the 63 Type is not likely to be sent to stock in the coming years," concludes the publication.